Total Knee Replacement
Restoring Your Mobility & Eliminating Knee Pain
Hoag Orthopedic Institute offers the expertise and experience of sub-specialty trained orthopedic surgeons who specialize in total knee replacement surgery, also referred to as total knee arthroplasty (TKA). Total knee replacement surgery is a minimally invasive surgery for individuals with knee pain resulting from degenerative joint disease, an accident, or a knee deformity. During surgery, damaged cartilage or arthritic bone surfaces are removed and the rest of the knee joint are replaced with metal and plastic materials to restore the integrity of the joint.
We realize that total knee replacement surgery or partial knee replacement surgery isn't likely your first choice when addressing your knee pain, but if knee pain has continued to worsen and is limiting your ability to perform daily activities it may be time to schedule a consult with one of Hoag Orthopedic Institute's board certified orthopedic surgeons who specialize in knee replacement surgery. Our knee surgeons are dedicated to getting you back to doing what you love by restoring your mobility through innovative and evidence-based treatment options, excellent patient care and superior outcomes.
Should you and your doctor decide to proceed with total knee replacement surgery to treat your knee pain, your procedure will take place in one of Hoag Orthopedic Institute's impressive, state-of-the-art operating rooms. You will be admitted to Hoag as an inpatient, with a length of stay that can vary between two and four days. The length of the surgical procedure can vary as well, most often taking between one and two hours. Various techniques and implants exist, which is why your surgeon will need to determine the type of implant and surgical technique that is best for your medical condition. All of our surgeons have been trained on the newest surgical techniques, including navigation and patient specific instrumentation.
Hoag Orthopedic Institute (HOI) surgeons have performed over 5,000 joint replacements annually since 2010. You can be confident that you will receive top-tier medical care through our highly acclaimed program.
Schedule an Appointment with a Knee Surgeon Today
Contact us today at (855) 999-4641.
Common Causes of Knee Pain and Loss of Knee Function
The most common cause of chronic knee pain and disability is arthritis. Osteoarthritis, rheumatoid arthritis and traumatic arthritis are the most common forms of this disease.
Osteoarthritis usually occurs after age 50 and often in an individual with a family history of arthritis. The cartilage that cushions the bones of the knee softens and wears away. The bones then rub against each other, causing knee pain and stiffness.
Rheumatoid Arthritis is an autoimmune disease in which the synovial membrane becomes thickened and inflamed, producing too much synovial fluid and which overfills the joint space. This chronic inflammation can damage the cartilage and eventually cause cartilage loss, pain and stiffness.
Traumatic Arthritis can follow a serious knee injury. A knee fracture or severe tears of the knee's ligaments may damage the articular cartilage over time, causing knee pain and limiting knee function.
Understanding Total Knee Replacement
The knee is a hinge-like joint. It is formed where the thighbone (femur), shinbone (tibia), and kneecap (patella) meet. It is supported by muscles, tendons, and ligaments. It is also lined with cushioning cartilage. Over time, cartilage can wear away. As it does, the knee becomes stiff and painful. A knee prosthesis (artificial joint) can replace the painful joint and restore movement.
What results can I expect after total knee replacement surgery?
Well over 90% of total knee replacement patients can expect good to excellent clinical results. This encompasses minimal to no pain, the ability to walk more than one mile, increased range of motion, and overall patient satisfaction with the procedure. Most patients can return to low-impact sports such as golf, doubles tennis, bowling, walking, as well as use of exercise machines.
If your doctor has recommended total knee replacement surgery, you and your family will most likely have concerns about what will happen before, during, and after surgery. We are focused on making you comfortable by educating you each step of the way and providing personalized attention from our experts. It's part of Hoag's commitment to a greater standard of service.
Post-operative rehabilitation will be very important to your recovery. While you are an inpatient, you will begin very mild physical therapy. At Hoag, your orthopedic physical therapist will work closely with you, your physician, and your family in order to help you regain full, optimal use of your knee. To derive maximum benefit from your surgery, you will be asked to adhere to a personalized rehabilitation plan once you have been discharged from Hoag.
Why Choose Hoag Orthopedic Institute for your Total Knee Replacement Surgery?
Our team of board certified Orthopedic Knee Surgeons are fellowship-trained to treat a variety of knee conditions
We offer minimally invasive total knee replacement surgery to relieve knee pain
Accredited surgery centers located in Newport Beach, Mission Viejo, Orange, Aliso Viejo, Marina Del Rey and Beverly Hills
Proud medical partner of the Los Angeles Chargers
We accept most major health insurance plans
Ranked High Performing for Knee Replacement
U.S. News & World Report 2023-2024.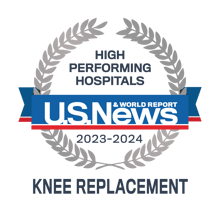 Hoag Orthopedic Institute is the highest volume provider of total knee replacements in California.