The Spine Center at Hoag Orthopedic Institute
Specializing in Comprehensive Spine Care in Orange County
Back and neck problems are the most universal complaints when it comes to pain. While there are a number of underlying causes for pain, some causes – including trauma, disease of the spine, or congenital conditions – may require spine surgery in order to help patients find lasting relief, increased mobility, and better overall health. At the Spine Center at Hoag Orthopedic Institute, we specialize in treating a range of conditions affecting the spine, including back and neck, through both surgical and nonsurgical approaches.
Hoag Orthopedic Institute is a unique orthopedic-only hospital dedicated to patients struggling with a range of conditions, including those affecting the neck, back and spine. Because our staff is 100% focused on orthopedic health, we are experts in diagnosing and treating back and neck pain. We place an emphasis on ensuring patients are treated in a personal and compassionate manner, which is why our patients continually recommend us to friend and family.
Hoag Orthopedic Institute is nationally ranked #27 out of 50 Top Orthopedic Hospitals by U.S. News & World Report in 2022-2023 and also ranked "High Performing" for Spinal Fusion.
As an award-winning hospital for orthopedics, we are committed to providing experienced and customized care patients need to get back to doing the things they love. Whether you are a weekend warrior hitting the trails on your mountain bike or simply wish to get through your daily activities without feeling pain or having limited movement, we are here to restore, improve, and enhance your health and mobility.
Ranked High Performing for Hip Replacements
U.S. News & World Report 2022-2023.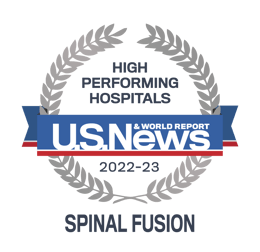 Get Back to Quality Time with Loved Ones
Call Today
(855) 999-4641

Find A Spine Surgeon
Spine Conditions Treated
Our team of expert orthopedic spine surgeons, sports medicine doctors and physical medicine & rehabilitation doctors at Hoag Orthopedic Institute are able to treat a range of conditions affecting the neck, back and spine, including:
Types of Spine Surgery Performed
Treatment approaches are tailored to your unique needs. With the ability to provide a range of minimally invasive spine surgery options using innovative technology, our spine surgeons will determine the most appropriate treatment option needed to provide you with the relief you need, including: