Back to Mobility and Me
Patient: Karen
Category: Knee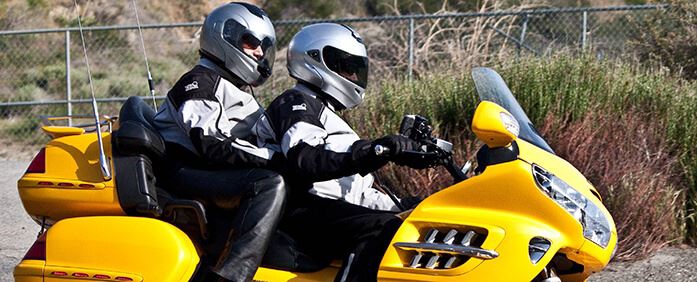 " I'm glad I made that decision. It was a lot of work, but it was worth it. My surgery went really well and now, just over a year later, I've got my life back. I am back to me and back to doing what I love, including riding with my husband."
Procedure: Bilateral Total Knee Arthroplasty
Seeing the world from the back of a Gold Wing motorcycle is "a 3D way to experience God's country," says Karen Taillon. "You're not just passing through it; you smell it and see it unobstructed." She and her husband, Tom, cruised on a bike all over Europe, toured the West Coast, and took a seven-state summer ride before arthritic joints made sitting with her knees bent for hours at a time and getting on and off the bike too painful to endure. The couple went from a decade of planning summer vacations around motorcycle trips to not having Karen on the back of their bike for a couple of years.
With her simultaneous bilateral knee replacement procedure in the rear-view mirror, the riders are looked forward to a spring ride to Julian, CA, kicking off their next life season.
"When my surgeon suggested I was a good candidate for simultaneous bilateral knee replacement, I decided I might as well do it all at once and move on," she says. "I'm glad I made that decision. It was a lot of work, but it was worth it. My surgery went really well and now, just over a year later, I've got my life back. I am back to me and back to doing what I love, including riding with my husband."
Karen's first joint replacement procedure happened 17 years ago. An injury sustained while playing softball accelerated hip arthritis and led to a total hip arthroplasty. She had her other hip replaced by her HOI surgeon just six months prior to bilateral knee replacements.
Before knee surgery, Karen couldn't sleep without a pain pill, had a hard time standing and couldn't walk more than 15 feet. During a trip to Vermont with family over Thanksgiving, Karen stayed in the hotel while the rest of her family was off having fun. "By Christmas I was functionally disabled. I knew I would continue to be in pain, get totally out of shape and eventually be in a wheelchair," she recalls. "It was disheartening."
Since 2007, Karen has provided legal services within the Hoag organization, including HOI. "Knowing the enterprise intimately, I had a high level of confidence in having my hip and knee procedures done at HOI. It was an easy decision for me," says Karen.
Still, there aren't a lot of patients who have chosen to have simultaneous bilateral knee replacements. "To prepare, I had conversations with other people who had gone through bilateral and separate knee replacement procedures. Either way it's not an easy recovery, but I decided it would be best for me to commit and get them done all at one time. Having gone through it, I would not hesitate to recommend that route to anyone who is physically a candidate."
Patients requiring bilateral knee replacements may be candidates if they are in otherwise excellent physical health with no underlying health conditions. Undergoing just one surgery, hospital stay and rehabilitation expedites getting back to a healthy lifestyle – if the patient is willing to do the work.
"I recommend people be really self-aware of their limitations and their goals going into surgery and through the recovery process," says Karen, 71. "It's not like you have a procedure and come home healed. You have to do the work to get back to being the person you were before pain limited your lifestyle.
"I had two main goals: getting back on the bike and being a good grandma who could play with her young grandsons. I wanted to run around with them, sit in a chair to read with them on my lap, and lift them in and out of the crib – all things you take for granted and miss when you can't do them."
Karen was well-prepared for an optimal recovery. She'd attended the hospital pre-op class to be as informed as possible. She acquired a hospital bed for her home and faithfully did upper body exercises in advance to have the strength to get up and down. She hired a personal caregiver, since her husband was working, who would help ensure she took her medications in time to minimize the pain and thereby maximize physical therapy sessions.
During her hospital stay, Karen was impressed by a highly qualified staff on hand, day and night. "Every single person had a concerned and caring attitude," she recalls. "They were friendly, encouraging, flexible, conscientious and supportive. I never felt like I was on my own. Throughout my stay they made me feel like we were all part of a team, doing this together."
She continues, "After surgery I was diligent about following the doctor's orders, doing physical therapy, eating well and getting good sleep. Four weeks after surgery I was back to driving my car and working hard in outpatient physical therapy sessions.
"Looking back, at the three-month mark my recovery shot up exponentially, and at six months I was back in the gym, working with a trainer twice a week. Ten months later at Christmas time when our girls and their families visited, I spent 11 hours walking around Disneyland, with no residual pain or discomfort.
"If I hadn't had surgery, I feel like life as I knew it would be nonexistent," reflects Karen. "Everything I wanted to do, like travel, bicycle, walk, play with my grandkids and ride with Tom I can do, now that I have regained my mobility and am back to being the "me" I had lost.
Photograph compliments of Karen Taillon