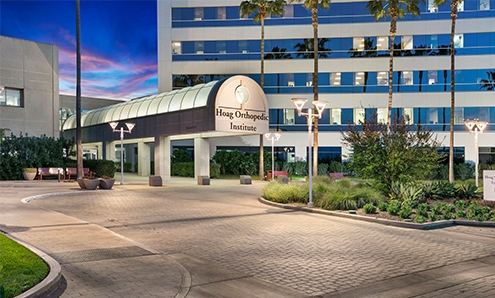 About This Location
Hoag Orthopedic Institute (HOI) is a unique specialty hospital located in Orange County, California focused solely on the highest quality orthopedic, sports medicine and spine treatment. We are the trusted leader in orthopedic, sports medicine and spine as seen through partnerships with professional sports teams such as the Los Angeles Chargers and the Orange County Soccer Club, and national recognition from U.S. News & World Report and other leading healthcare organizations.
HOI ranks in the 99th percentile for patients' likelihood to recommend the hospital and 99th percentile for overall hospital rating, according to Press Ganey's national database of hospitals.
Here's what you can expect at Hoag Orthopedic Institute:
Our hospital has 70 beds and 9 operating rooms specifically designed and equipped for orthopedic and spine patients
We have over 300 specialty physicians, including 90 orthopedic surgeons and spine surgeons
Our nursing staff is specifically trained to care for patients undergoing orthopedic and spine surgeries
Each inpatient receives a Nurse Navigator who guides them through the whole process, from surgery to ongoing care after discharge
Patients whose treatments require an overnight stay will receive a one-of-a-kind signature experience in a calming environment. Patients will recover in a private room with access to thoughtfully curated amenities such as a sleep mask, luxurious body lotion, robes, spa-like music along with aromatherapy.
HOI focuses on musculoskeletal care of patients and treatments in all orthopedic specialties including knee, hip and spine disorders, and takes pride in specialty care related to sports medicine, orthopedic trauma and extremities care.
Since opening in 2010, HOI's hospital has been named by U.S. News & World Report and Becker's Orthopedic, "Spine & Pain Management Review" as one of the top orthopedic hospitals in the nation. Most recently, HOI was recognized by the Centers for Medicare & Medicaid Services (CMS) as the only hospital in Southern California and one of 7 in the state to earn the highest, five-star rating for patient experience.
Here is some more information to assist you during your visit:
Directions: Located on Sand Canyon and Alton Parkway, just off the 405 freeway next to Hoag Hospital Irvine.
Parking: Parking is free to all visitors, is conveniently located in front of the hospital along with a drive-through drop-off. View campus map here.
Lounges: There are several waiting areas on the first floor, as well as rest areas in the Hoag Café on the lower level.
Phone use: Telephones, cell phones, and pagers may be used in the hospital except in the critical care areas (ICU, CCU, CVICU and Sub ICU).
No smoking is allowed.
ATMs: Available in the cafeteria.
Hotels: There are several nearby hotels and short-term lodging facilities in Newport Beach and Irvine. Family members of patients at Hoag Orthopedic Institute can also receive a special rate at some of the local hotels. View the list of participating hotels here.
Patient billing: A customer service representative is available in the registration area from 5 a.m. to 5:30 p.m., Monday through Friday, to answer specific financial billing questions or to receive a payment. View our billing and insurance page for more information.
Visitor Information
At Hoag Orthopedic Institute, our patient care philosophy depends greatly on engaging families to be part of the healing process. For the continued health and safety of our patients, visitors and staff, and until further notice, we will be restricting patients to one visitor. Please review the full Visitor policy here.
Safety Measures
Patient safety has always been of the utmost importance. We understand that the COVID-19 pandemic has caused unease and uncertainty. We want to assure you and your family, that we have implemented vigilant safety measures following CDC guidelines to further protect you. View Hoag Orthopedic Institute's vigilant safety measures for surgery to learn more about our pre-op patient screening and testing protocol.