Back to Gardening
Patient: Verna
Category: Knee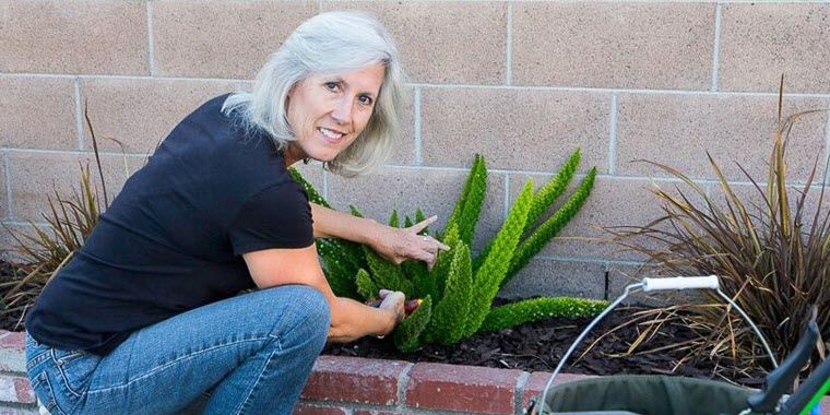 " This past year I've been able to do as much backyard gardening as I want."
Verna's days are much more fruitful after having repairs to both knees. For the first time in more than four decades of feeling disabled because of knee problems, she's delighted to be living life without physical limitations.
During her formational school years, Verna couldn't swim, play sports or participate in physical education (PE) classes. Instead, in high school she joined Future Farmers of America and became a teacher's aide for the school's farm.
"This past year I've been able to do as much backyard gardening as I want," says Verna. "We grew the most flavorful tomatoes, squash, green beans, corn, lettuce, carrots, onions, cucumbers and watermelon."
Verna and her husband, Keith, live in a 60-year-old home on one-third of an acre in Westminster. "We have completely renovated our home this past year. I was able to help with the demolition, painting, baseboard installation and more. Prior to surgery I couldn't squat, and barely made it up the stairs. What HOI and my doctor have done for me has been so life-changing!"
Verna's knee trouble began when she was 8 years old. "I was a victim of the 1960s," she claims. "No one knew how to help me, and I just accepted the way life was. I followed my doctors' advice to not stress my knees and cause them more trauma. They told me because of this deformity I would have severe, early arthritis and be in a wheelchair by age 40."
Most of the time Verna functioned just fine. When she turned her torso, she would turn her feet, too. Still, every few months while walking, her knee would come out of its socket and she would fall. Her kneecap could be popped back into place, but it was painful and swelling usually lasted another six weeks.
In spite of several procedures elsewhere through the years, including arthroscopic surgeries on both knees, Verna's problem continued. Finally, a neighbor who went to HOI for hip surgery urged Verna to go to an HOI surgeon. Once there, she was sent for an MRI, which revealed a hairline right knee fracture and her primary issue, known as patella (kneecap) sublaxation. Her doctor explained that having a shallow groove in her patella was like a train riding on a completely worn out track.
Verna received physical therapy, and was referred her to an HOI sports medicine specialist with expertise in treating her condition. She recalls, "After reviewing my MRI and medical history the doctor looked at me and said, 'I know what to do.' He was confident he could fix it, and he did! Because of HOI and my Hoag doctor, my knee problems are finally gone."
Verna's knee "renovations" took place at HOI's Orthopedic Surgery Center of Orange County (OSCOC) in Newport Beach. Her right and most fragile knee was performed first, and included a cadaver bone graft and removal of an ineffective staple placed years before. Outpatient surgeries on both knees involved an intricate, advanced procedure known as allograft reconstruction, with ligaments from a deceased tissue donor transplanted.

"The staff was awesome at making sure I wasn't nervous, that I was comfortable and knew what to expect," she says. "When I told the anesthesiologist about past problems with anesthesia, he was able to accommodate me. The nurses were thorough and pleasant. Everyone took great care of me."
Verna was told she could expect a tough recovery and would have to wear a straight-leg brace for six weeks. Still, Verna took pain medication for just one week following her first knee procedure and three days after her second. "The post-surgical physical therapy could be intense while getting my leg to bend," she admits. "I cried a few times."
She adds, "My surgery was 100 percent successful. I still have some weakness in my legs – that's just the way I'm built. I still have severe arthritis in my knees, but it's not painful. If that happens, I'll know what to do – have a knee replacement through HOI."
For now, there are plenty of projects to dig into around the house.