Back to Cooking
Patient: Marcelina
Category: Knee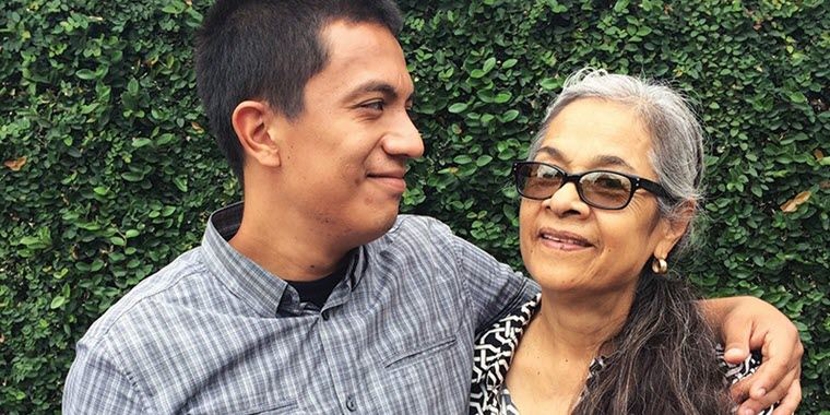 " My New Knee is a gift."
"If I hadn't had my knee replaced, I wouldn't be out and about – I would be home in bed. Now I can stand and cook for my kids, or go visit family. I can take walks, go grocery shopping with my daughters and attend church," says Marcelina, who has four girls, 10 granddaughters, two grandsons, and a great grandson and granddaughter. "My family can hardly believe the miracle that has happened to me."
Marcelina remembers the diet of frijoles (beans) and a hunger for a better life for her daughters that caused her to leave their home in Guerrero, Mexico, and move to California in 1986. Marcelina brought her skills as a seamstress and supported her family here for 15 years, until the pain of worsening osteoarthritis became too much.
When Marcelina finally sought medical help, her knee had "blown up," she recalls. She visited a specialist in Los Angeles who provided Marcelina with medications to help relieve the swelling and throbbing from her bone-on-bone condition, but relief was only temporary.
"It became so bad that I couldn't stand for more than five minutes. I no longer went anywhere with my daughters – I just couldn't stand the pain," recalls Marcelina, whose situation seemed hopeless without medical insurance.
Then a friend told Marcelina about the La Amistad de Jose Family Health Center, a St. Joseph Hospital clinic for economically disadvantaged individuals located near her Orange apartment. From the time Marcelina came to La Amistad and was seen by a primary care physician, referred to an HOI orthopedic specialist and received surgery, less than two months passed.
"It all happened so rapidly, and I was terrified I was going to end up in a wheelchair for life," recalls Marcelina. "I wanted to call off the surgery but Macrina, my daughter, wouldn't let me. She knew I wouldn't get another opportunity like this one. When the doctor told me the knee replacement surgery had a success rate of more than 90 percent, I was finally convinced."
Six weeks after her outpatient procedure, Marcelina stopped using a walker and was finishing physical therapy. Six months after having her procedure, Marcelina says she has more pain-free movement in her joint every day. Beaming, she describes her condition as "muy bien" – very good.
"The doctors and clinic staff have been a huge blessing and my new knee is a gift," says Marcelina, choking back tears. "I truly believe they were an answer to my family's and pastor's prayers."