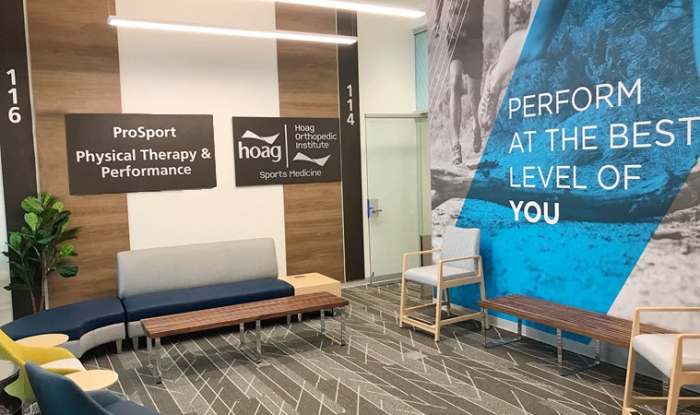 About This Location
Hoag Orthopedic Institute (HOI) is excited to expand clinical services with a Sports Medicine clinic at the new Hoag Health Center in Foothill Ranch! Sports Medicine physician Dr. Gabriel Carpio-Bracho will provide specialized clinical services in the treatment and prevention of sports-related injuries, as well as concussion management, performance training and assessment, and nutrition. Along with highly specialized clinical care, x-ray and casting capabilities are available on-site for patients to provide convenience in a comfortable setting.
Occupying the suite next door is HOI's partner ProSport Physical Therapy & Performance who have been providing high-quality services to the Orange County community since 1992. Under the leadership of Joe Donohue, clinic owner, patients can feel comforted in knowing ProSport provides individualized treatment experiences including hands-on care, as well as customized therapeutic exercise programs specific to the goals of each patient. Whether you are looking to regain pain-free movement or enhance your performance at an elite level, you're in good hands at ProSport!
Get Back to the Sports You Love
HOI Partner, ProSport Physical Therapy and Performance now in Foothill Ranch
ProSport Physical Therapy and Performance will be offering comprehensive rehabilitation services for all of our Foothill Ranch patients, including professional and top-performing athletes.