Back to Driving
Patient: Pamela
Category: Spine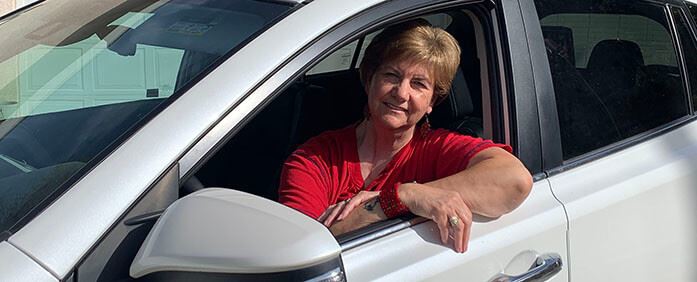 " Even though I live in Riverside, I come to Orange County for care because you have to have confidence in your doctor and hospital," says Pamela. "I wouldn't want to go anywhere else."
Procedure: Complex Spinal Surgery
Watching TV, taking long walks, getting up out of a chair, driving – most of us take these daily activities for granted. Not Pamela. Not anymore.
In 2018, Pamela developed a devastating neck condition, unable to raise her chin off her neck. She lost her balance, fell, and had to use a walker. Pamela's neurologist advised her to see her HOI spine specialist, who scheduled a repair without delay.
"Even though I live in Riverside, I come to Orange County for care because you have to have confidence in your doctor and hospital," says Pamela. "I wouldn't want to go anywhere else."
At age 72, Pamela has been through more than her share of medical crises. In the past decade the great-grandmother has had two lower back procedures, knee replacement and surgery for an injured shoulder. She's survived breast cancer and chemotherapy for lymphoma, now in remission. She sees a neurologist for restless leg syndrome and neuropathy.
"It's been one thing after another," she says, "but I often remind myself there are people who are worse off than me. You have to stay positive."
"I consider myself a surgery queen who has always bounced back pretty quickly, but my surgeon warned me this was a complex surgery and difficult recovery, and he was telling me the truth," says Pamela. "I've learned it's key to listen to your surgeon and follow your caregivers' instructions."
Her successful, eight-hour, three-stager surgery in November 2018 was followed by a three-day hospital stay. "My caregivers were very good about explaining what I needed to do to heal," she recalls, adding, "My therapist had me out of bed right after surgery, and had to keep telling me to slow down."
For the next month, Pamela wore a stabilizing brace for the rods and cushioning placed on both sides of her neck. Every day in the months that followed, Pamela did the exercises recommended by her doctor. She was soon back to her gym, exercising in the pool and riding the stationary bike to regain her strength and stamina.
"Before my neck problem, I was walking two miles a day. I'd lost 30 pounds. Because I was inactive after surgery, I gained back 10 pounds. I'm eating healthy foods and now (four months post-op), I've lost three pounds and plan to lose another 20. I try to go to the gym every day, but I listen to my body. If I develop soreness, I won't go that day. Right now, if I'm walking very far, I use a cane, but eventually I'll be taking long walks again," she vows.
She continues, "I had to cancel a trip I had planned to take to Egypt with my cousin a few months after my surgery. Instead, I'm planning to fly to Arizona and visit her. Maybe we'll make it to Egypt in 2020 – we'll see. Right now, I'm thankful for what I can do.
"I'm grateful to have a new car that makes it possible for me to drive again. It has sensors telling me when someone is behind me when I'm backing up, changing lanes or parking. I don't mind public transportation and have taken the bus. But I love the freedom of making a trip in my car to the grocery store, visiting my husband in his care facility every week, and driving to Orange County to spend the night with a friend.
"You don't realize how the everyday activities you take for granted can be taken away," shares Pamela. "I'm working hard to recover and have good friends, family and my medical team behind me. I'm so thankful for what I can do again."
Photograph compliments of Pamela Griggs