Back to Painting
Patient: Alan
Category: Spine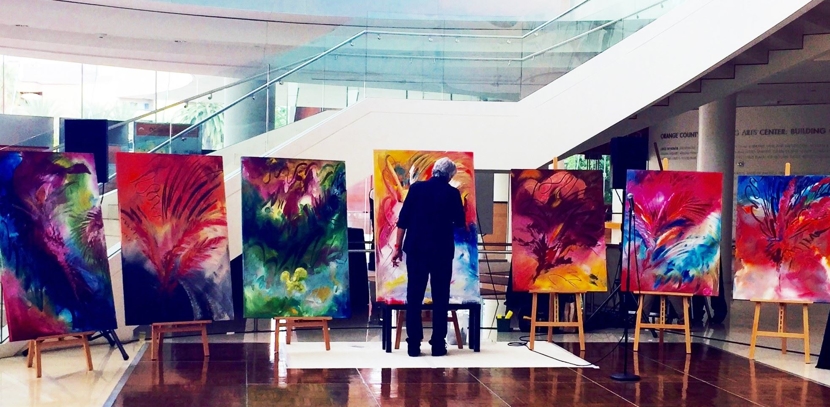 " Thankfully I had an overwhelming feeling that everyone at the hospital knew what they were doing. They were all very professional, and everything went like clockwork."
Procedure: Multi-level Spinal Fusion
At age 69, lifelong professional artist Professor Alan Burner is pursuing his passions for painting, sculpture and travel. He is having a ball as international director for the Art Institute of California, organizing art workshops for hundreds of visiting international students. Alan credits "a really nice repair job" for alleviating hip and back pain and restoring his active lifestyle.
Spinal scoliosis (curvature of the spine) had caused Alan lower back pain for years. Standing for more than 15 minutes was uncomfortable. Severe pain set in last fall while scouting out a park location for a school event. He jumped down from 3-foot-tall wall, jarring his spine.
His general practitioner was concerned about Alan's debilitating symptoms. They needed to be addressed without delay.
Alan had a complex, multi-level problem in his spine that caused several areas of compression on his nerves. His primary doctor asked whether Alan wanted a "tried and true" traditional surgery that would require a longer recovery period; or a referral to an orthopedic surgeon who performs newer techniques that have potentially faster recovery. Alan opted for the newer method. Through incisions in his side, belly, and back, his spinal asymmetry would be corrected into proper alignment and his nerves decompressed. Once aligned, metal rods and titanium screws would be inserted to hold the spine in place while the bone mended.
"What my surgeon methodically told me made perfect sense," says Alan. "I had done my own research and didn't seek a second opinion because of the trust I had in the entire Hoag system and him as a sharp and widely respected back surgeon."
Alan was hospitalized at HOI for four and a half days for a multistage spinal surgery and recovery. "I was terrified of having surgery," he admits. "Thankfully I had an overwhelming feeling that everyone at the hospital knew what they were doing. They were all very professional, and everything went like clockwork. It wasn't fun, but it sure helped to feel like everyone was rooting for me."
Back at home, Alan started his recuperations with frequent walks around the house. The next week he strolled around his property and went back to his studio to paint. By the third week he was taking walks down his street. He tired easily, but the searing neurogenic hip pain was gone, and gradually as the weeks went by his post-surgical back pain subsided, too.
"Now I'm able to stand for an hour or more while painting," he says six months post-operatively. "I'm not able to lift heavy weights, but I can drive, shop for hours or sit at my computer without pain."
Now that his standing and walking problems are solved, Alan and his wife are looking forward to their upcoming trip to Europe.
"This was a radical surgery and my body will need a year to fully heal," says Alan, "but I just keep feeling better and better."