Back to Walking
Patient: Victoria U
Category: Hip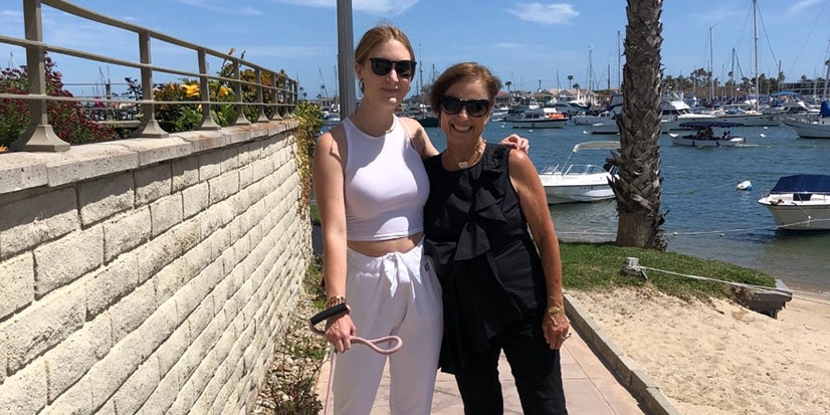 " I am very impressed with the efficiency at Hoag Orthopedic Institute," Victoria said adding, "I've never seen a place that is so clean."
If you're familiar with the walking paths on Newport Beach's Lido Island, then chances are you've passed Victoria Uniack walking the scenic route.
"I have always been very active, so when my hip started clicking, I knew something was not right," Victoria shared.
After speaking with several neighbors who had had undergone hip surgery, Victoria ultimately decided to seek care with Hoag Orthopedic Institute's joint surgeon Dr. Nader Nassif. After tests confirmed that Victoria's hip bones were bone on bone and that she would need a total hip replacement, Victoria couldn't wait to get through the surgery so she could get back on her feet.
"I am very impressed with the efficiency at Hoag Orthopedic Institute," Victoria said adding, "I've never seen a place that is so clean."
So in August 2018, Victoria underwent a total hip replacement with Nader Nassif, MD, at Hoag Orthopedic Institute. After surgery, Victoria used at-home physical therapists and a walker for one week, a cane for the second week and was back to walking four miles the following week.
"My advice is to do whatever you're told to do, follow every single instruction even if you don't feel like that exercise that day, because it makes a difference," Victoria shared. "Dr. Nassif should have five stars next to his name, I just think he's a technical genius and everyone [at HOI] is phenomenal."
Now two years after surgery, Victoria shares that in addition to walking, she is fully enjoying her active lifestyle including regular barre and strength training exercises (now outside) to comply with social distancing guidelines.
"I'm 80 now but I don't feel anywhere close to that, more like 50, and my hip feels better than ever," Victoria shared, crediting her active lifestyle and fitness to feeling her best and recovering so quickly.