Back to Exercise
Patient: Jim Hogan
Category: Hip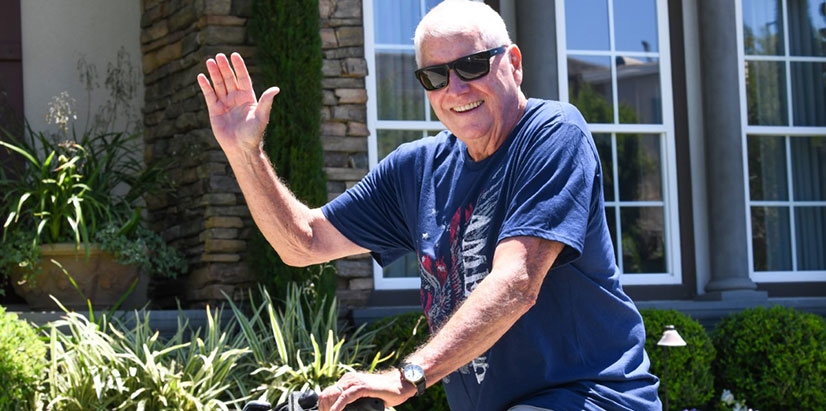 " I am very impressed with the team Hoag Orthopedic Institute has put together, and even more so a decade later, which is why I keep coming back," Jim shared"
Just call Jim Hogan the bionic man. The long-time Balboa Island resident and his family have always been incredibly active – skiing, walking the island and riding bicycles – so when Jim started having difficulty getting on his bike in 2021, he knew he needed orthopedic expertise.
Well acquainted with orthopedic surgery after a knee replacement and rotator cuff surgery more than 10 years ago (both at HOI), Jim sought out his long-time physical therapist Joe Donohue at ProSport Physical Therapy and Performance, for a hip surgeon recommendation.
"Joe and ProSport helped our family years ago when my kids were playing sports at Corona del Mar High School, and I've sought him out when I needed care for my knee and shoulder," Jim shared. "I thought who better to ask for advice than a trusted guy who sees more injured people come through his facility than anyone?"
Jim selected Steven Barnett, MD, an experienced hip replacement surgeon at HOI, and in summer 2021, he underwent bilateral hip replacement.
"I am very impressed with the team Hoag Orthopedic Institute has put together, and even more so a decade later, which is why I keep coming back," Jim shared. "Doing the paperwork online before coming in was a lot more friendly, and I was blown away by the teamwork with the doctors and nurses. You can tell it's not their first rodeo which is such a relief."
Post-surgery, Jim said he could tell that the team knew what they were doing.
"I stayed consistent with my in-house physical therapy offered by Hoag Orthopedic Institute and threw away my cane and walker pretty quickly," he said. "I thought I would have a hard time balancing with two hips replaced but I didn't. I also didn't realize how uncommon a bilateral hip replacement is, I was just blown away that my doctor recommended it because I would rather not be in the hospital a long period of time," he added.
Now more than a year later, Jim said he's back walking 2-4 miles a day on the island, working out at ProSport PT, and remains active with the ministry he and his wife founded.
"Patient care is crucial and as a patient, you are going to react better to those who have your interest at heart and I believe both ProSport and HOI do," he said.
Although Jim's hips have improved drastically, he joked that they were feeling so good it showcased a problem with his shoulder, so he underwent shoulder replacement surgery with Daniel DeBottis, MD at HOI just a few months ago. He's remained active with his PT at ProSport and said he's had minimal pain after surgery.
"Now that I'm bionic, as my wife says, I really look forward to getting a better sleep and full range of motion in my shoulder," Jim shared. "I'm 75, although I can't really believe I am, but I am glad it did this sooner rather than later."