Back to Surfing
Patient: Timothy Noble St Aubyn
Category: Hip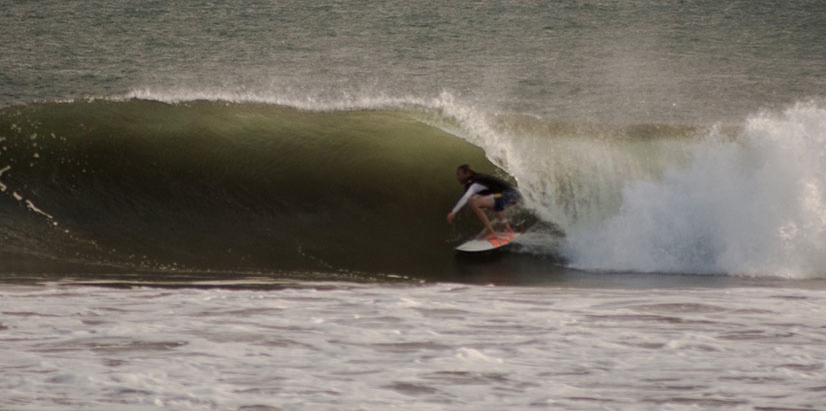 " I came in with some anxiety and nerves, and the virtual reality took me mentally to a place where I could relax," Timothy shared. "It transformed me to a place that helped me stay prepared, take a deep breath and I felt a sigh of relief that I would be ready for surgery."
Timothy Noble St. Aubyn has always been into action sports, from skateboarding to surfing, and his job as a dolly grip for popular sitcoms like Friends and Big Bang Theory, has kept him incredibly active and mobile. But over the past couple of years, he experienced increasing pain in his left hip which left him unable to walk without pain and made going to work difficult.
"When the pain affected my quality of life, I knew I had to get it taken care of," Timothy shared.
After speaking with his primary care sports medicine physician Dr. Terry Romine, and researching orthopedic experts and quality results, Timothy identified Steven Mikulak, MD at Hoag Orthopedic Institute for his left hip replacement.
"I kept researching the best way to undergo hip surgery and Dr. Mikulak, his surgical techniques, and Hoag Orthopedic Institute, kept coming up," Timothy said. "I wanted to make sure I had the best opportunity to heal so I can get back to my action sports."
No stranger to surgery having undergone a shoulder repair, broken arm and other injuries over the years due to his physical career and passion for action sports, Timothy shared that his hip replacement at HOI went very smoothly.
"Everyone at HOI was really nice, switched on, well informed, and the staff was right there with me, kept an eye on me and made sure everything went well with the medications," Timothy said.
One of the most memorable parts of his stay at HOI was experiencing the virtual reality technology for patient relaxation prior to surgery.
"Even having gone through other surgeries, I came in with some anxiety and nerves, and the virtual reality took me mentally to a place where I could relax," Timothy shared. "It transformed me to a place that helped me stay prepared, take a deep breath and I felt a sigh of relief that I would be ready for surgery."
After his overnight stay, Timothy was discharged home to recover and said his at-home physical therapy and doctor's team were there to answer questions about medications and help him stay focused on recovery.
Now just a month out from surgery, Timothy said his pain is gone and he is wondering why he lived with the pain prior to surgery for so long.
"You don't realize how much pain can affect your relationships and your daily life and I am so glad I had the hip replacement because I'm not in pain anymore," he said. "I am really looking forward to getting back to surfing and traveling next."