Back to Sailing
Patient: James Owen
Category: Spine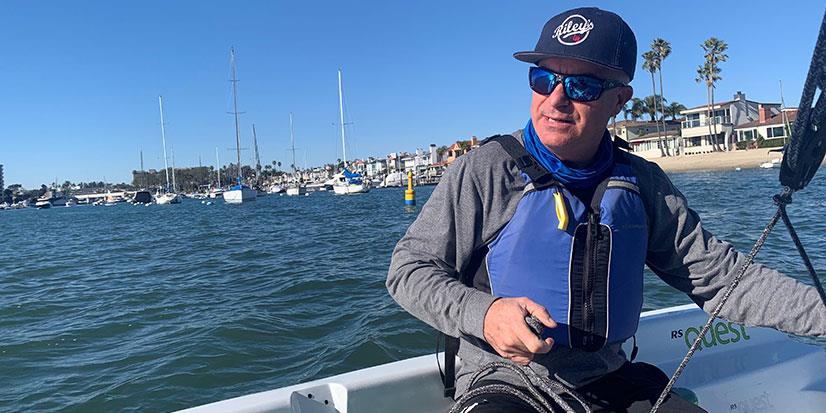 " My surgery experience could not have been any better. Everyone at HOI cares; that is evident and pervasive," he said."
Hoag employee and recent Long Beach Fire Captain retiree James Owen has always been active in water sports from sailing to scuba diving, swimming and more.
"My whole life has been spent in and around the ocean," shared the Northern California native turned Costa Mesa, Calif. resident.
But when a neck fracture from a motorcycle accident five years ago started flaring up, James had to pause on the sports he loves.
"I suddenly found that my left arm was experiencing numbness with decreased motor function," James shared. "I was in so much pain that I had to go to Hoag Hospital Emergency Department for breakthrough pain and could barely sit still for the imaging that was needed."
The imaging revealed that James would need surgery for his neck fracture. After consulting with a colleague, and knowing HOI's reputation, James ultimately selected HOI spine surgeon Richard Lee, MD as his doctor.
"I selected HOI and the surgeon based on firsthand knowledge of the outstanding reputation nationally HOI demonstrates," James said. "Dr. Lee is the best, hands down. He explained every option, listened to me intently and scheduled my surgery within a week due to my pain."
So just six months after his neck pain resurfaced, James underwent a C6/C7 cervical spinal fusion with Dr. Lee at HOI.
"My surgery experience could not have been any better. Everyone at HOI cares; that is evident and pervasive," he said. "I work with these wonderful professionals that treated me better than my own family members."
Now just a few months out from surgery, James shared that he only needed pain medication for three days after surgery and was able to return to work just one-week post-operation.
"I am out of the C Collar and I feel wonderful. 100% of the pain is gone. 90% of the motor function has restored. All the numbness has subsided," said James.
Now pain free, James said he is looking forward to a road trip to to visit family in Northern California this summer and getting back into the gym, sailing, swimming and surfing again.
"I would tell people considering spine surgery to focus on the recovery process by becoming a health nut," said James. "This was a huge wakeup call about my health and need to focus on longevity."