Back to Walking
Patient: Ned
Category: Hip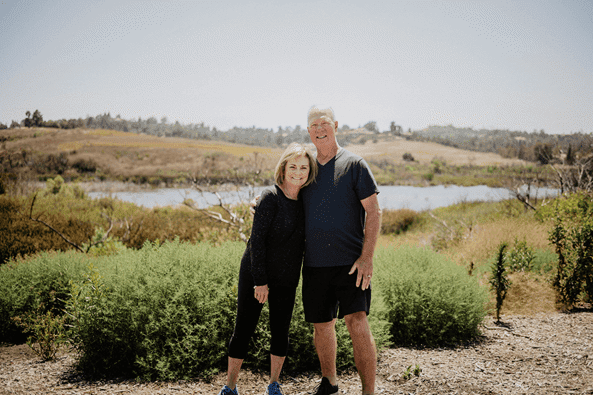 " I walked in with pain and walked out of HOI without pain. It really surprised me but I was able to walk without the walker after my first day at home and from there I just eased into activities based on my doctors' direction."
Ned Moeller is a walking example of health, but a couple years ago in 2016, he was facing a challenge he didn't think was possible to overcome – walking without pain.
"I was experiencing pain and discomfort in my right hip, which made it really difficult to sit or drive for periods of time or walk without pain which made doing my job difficult," Ned shared. He sought the expertise of Hoag Orthopedic Institute affiliated surgeon Dr. Steven Barnett, who after a couple of non-surgical interventions, advised Ned to consider hip replacement.
"Through our friends and my wife's work at a rehabilitation hospital, Hoag Orthopedic Institute and Dr. Barnett came highly recommended, so we decided to go for the replacement so I could get my life back.
And get his life back on track Ned did. He was up walking just an hour after surgery thanks in part to the protocols outlined in HOI's Enhanced Recovery Program, which physicians like Dr. Barnett helped establish at HOI in 2015. HOI's ERP protocols lead the way for same-day surgery at HOI and discharge to home within one day of surgery, based on each patients' needs, complications (or lack thereof) and general health, in an effort to get each patient back to doing what they love safely yet more quickly than traditional inpatient care.
"I went in with pain and I walked out of HOI without pain," Ned shared. "My wife and I would wonder when the anesthesia effects would wear off and pain would kick in after surgery, but it never did. It really surprised me but I was able to walk without the walker after my first day at home and from there I just eased into activities based on my doctors' direction."
Within days, Ned made a two-hour drive to see his grandson play soccer, and was walking without the assistance of any support tools like a walker or cane.
"I made sure to follow all of [Dr. Barnett's advice] and the preparation the ERP program gave me about easing into activities, how to make the home safe after surgery and avoid falls, helped me really prepare for what was to come," Ned added. "But was even easier for me than I thought, and I'm really grateful to be back to doing what I love."
Today, Ned Moeller is a back to walking, hiking and his daily activities with his wife thanks to the surgical expertise provided by Hoag Orthopedic Institute's team of nurses, physical therapists, caregivers and Dr. Steven Barnett.