Back to Kayaking
Patient: Randy Howarth
Category: Shoulder and Elbow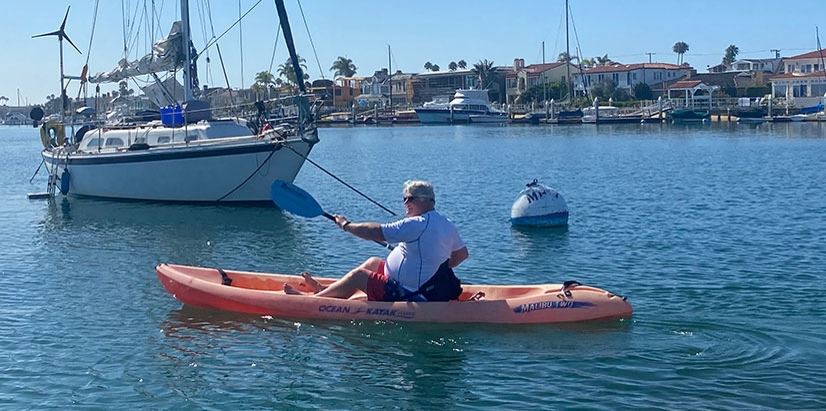 " I have been to HOI a lot due to my other surgeries, and HOI is by far a top notch, great hospital," Randy said. "It's incredibly clean, staff are well organized and I couldn't be more grateful for the great care I've received."
Randy Howarth is experienced with orthopedic surgery and recovery, but when his shoulder unexpectedly gave out after a 2019 hip replacement, he was surprised.
"I'd had minor shoulder pain before, but it became painful to push off the bed and holding a three-pound weight was impossible," Randy shared. "I couldn't surf much less push myself out of bed and had excruciating pain in my shoulder."
Randy had undergone physical therapy for many years due to a car accident that led to six ankle surgeries, as well as a hip replacement, so he started PT right away for his shoulder.
"My physical therapist told me 'Your shoulder is toast, you need to see someone,' so I asked my hip replacement surgeon for recommendations," Randy said.
Randy sought an opinion with Dr. Theodore Gregorius, sports medicine doctor and orthopedic shoulder surgeon, who ordered CT scans which showed a damaged shoulder and rotator cuff tear. After seeking a second opinion, Randy ultimately selected Dr. Gregorius and underwent total shoulder replacement and a rotator cuff repair at Hoag Orthopedic Institute in March 2020.
"I have been to HOI a lot due to my other surgeries, and HOI is by far a top notch, great orthopedic hospital," Randy said. "It's incredibly clean, staff are well organized and I couldn't be more grateful for the great care I've received."
The week after surgery, the state closed down due to COVID, but Randy kept up walking and went to PT as soon as he was able.
"I was concerned about how painful shoulder surgery would be after hearing from friends who had undergone similar procedures, but I was confident in the course Dr. Gregorius laid out for me and wanted mobility back in my shoulder as quickly as possible," Randy shared.
Now more than a year after surgery, Randy recently retired and is back to doing his favorite hobbies including scuba diving, biking and body surfing as well as enjoying new outdoor activities like stand-up paddle boarding and kayaking. He's also loving playing with his grandkids and throwing them up in the air.
"About 6 months out from surgery I was back to 90% mobility, bike riding, and my shoulder feels better than it has the past five years," Randy said.