Back to Hiking
Patient: Steve Friedl
Category: Knee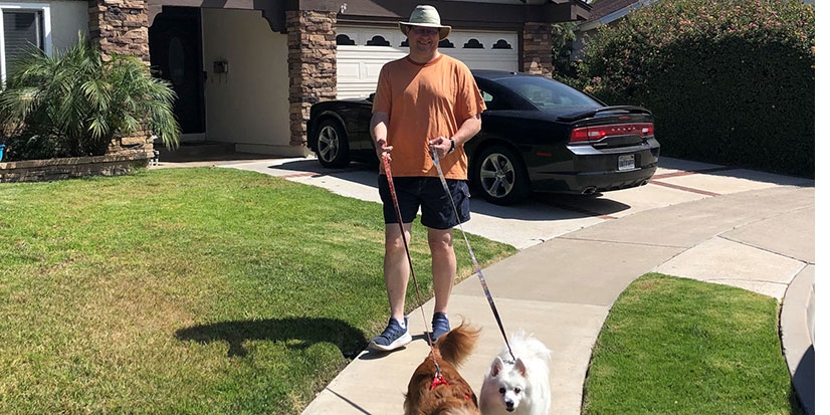 " Recovery this awesome requires all the stars to align perfectly and many of those stars are found at HOI."
Steve Friedl has always been a hiking enthusiast and the Tustin resident led hikes in the Santa Ana mountains for years. After experiencing pain in his left knee, Steve decided to seek care from an orthopedic doctor. In 2013, Steve had meniscus surgery with HOI founding doctor Ben Rubin, M.D. (who retired in 2019).
"I was able to go hiking again because of the care I received with Dr. Rubin and HOI," Steve shared. "But I knew I would eventually need a knee replacement."
After his meniscus surgery, Steve returned to hiking then met, proposed to and married his wife Jaimee on the hike to Vista Point in O'Neill Park. But Steve's knee pain got so uncomfortable in 2021, that he decided to seek out care from an orthopedic specialist. After selecting hip and knee specialist Abraham Kim, M.D., Steve ultimately elected to undergo a knee replacement in May and is now looking forward to getting back to hiking.
"I could not have received better care from absolutely everybody here at Hoag Orthopedic Institute," Steve said. "Everyone took great care of me from when I was greeted at the welcome desk to recovery down the hallway at the hospital to my discharge the same day, and physical therapy at home."
Steve was ecstatic that just one week out from surgery he already had 131 degrees of flexion and said his Hoag at Home physical therapist was surprised by how well he was doing so quickly after surgery.
"Recovery this awesome requires all the stars to align perfectly and many of those stars are found at HOI," shared Steve.
To show gratitude, Steve donated eight large boxes of coffee to both the HOI and Hoag's nurses' station for care he received at HOI and at Hoag during colon cancer surgery in 2017.
"My sister is a nurse and I have been taken care of by so many great nurses that I just wanted to take care of the people who take great care of me," Steve said.
Now a month out from surgery, Steve was able to go out on a short urban hike and is looking toward getting back to hiking in the mountains.
"My goal is to finish all the peaks in the Santa Ana Mountains by the time I'm 60, which is August 2022, and right now I've completed about half of them," shared Steve. "It's going to take a serious training effort to make it, but my recovery was so fast due to the care I received that I feel like it's within reach."