Back to Boxing
Patient: Kevin
Category: Hip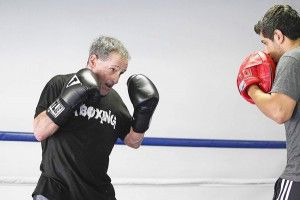 " I'd never go anywhere else for orthopedics."
Kevin has had both hips replaced, in 2009 and 2012. In between, at age 69, Kevin boxed three rounds to dethrone the reigning champion at the Ringside Masters World Championships in Kansas City, MO, in the over-65 (140 pound) weight class.
A disciplined athlete since high school football, in more recent years Kevin has pounded the hills of Laguna. Although he says he'd do it again, Kevin blames too much running for wearing out his hip joint cartilage.
Before hip replacement, he'd had two back surgeries, yet pain in his back persisted. "As soon as my physical therapist suggested it could be caused by my hip, I had it checked out," he recalls. "We knew my second hip would eventually need to be replaced, and I wasn't going to wait until it affected my ability to do things. As soon as the pain started, I had it taken care of, too."
Kevin points out, "Hip replacement can be a good experience. What occurred at Hoag Orthopedic Institute was a really good experience."
By his second surgery, Kevin knew the ropes. "When I came out of surgery I wasn't sick and the pain was gone. On the same day as my procedure I had my first physical therapy session, and we started planning how I could go home and get back in the gym. They encouraged me and let me push myself."
He continues, "I was so happy because surgery was behind me and I felt so good. By the second day I would wait until I thought the nurses weren't looking and sneak out of the room. I got caught a couple of times. They'd ask, 'Shouldn't you have your walker?'
Kevin adds, "It's amazing to me that a big piece of bone came out of my skeleton and was replaced with titanium, yet it was done so seamlessly. My surgeon was top of line – I consider him a miracle worker. I really liked having a private room, and all the hospital staff was very professional. They take a personal interest in you and your situation. Whenever I find anybody having orthopedic surgery, I say this is the group you've got to contact, and HOI is where you've got to go. Personally, I'd never go anywhere else for orthopedics."
Twelve days after returning home, Kevin was back in the gym. He continues working out at the gym six days a week, although he's taking it easy on an arthritic ankle and recovering from a home improvement injury to his shin and calf that have slowed him down, for now.
"Hopefully I have one more fight in me," says Kevin. "If my ankle gets healthy I'll box again; I'm aiming to be back at the tournament in Kansas City in the coming year."