Back to Mancations
Patient: Greg
Category: Hip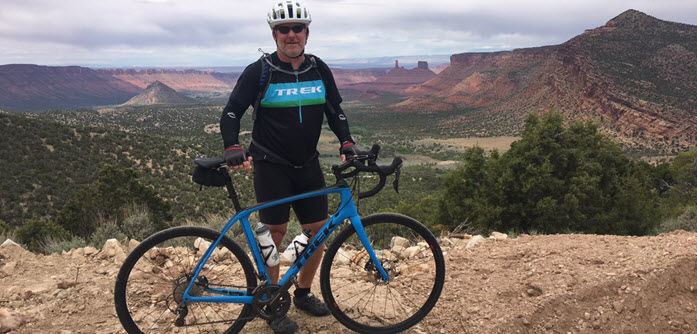 " I have nothing but high praise for the folks at HOI. I never felt like a number. It was clear they knew what they were doing and that put me further at ease."
Procedure: Bilateral, Anterior Approach Hip Replacement (February and November 2016)
On a routine check-up with his general practitioner, Greg Faust recalls mentioning that his right hip was bothering him. His doctor asked, "Has it stopped you from doing anything?"
He told his doctor how his right hip throbbed after playing pick-up basketball. In weekend softball games, sprinting to bases caused pain and made just walking on Monday mornings a struggle. Distance training for a marathon wasn't going well. On his annual mountain biking "mancation," Greg made relief stops for a massage and stretching so he could get back on his bike and ride. Greg's physician referred him to an orthopedic surgeon for an evaluation.
"I attributed my hip pain to getting old and not doing enough stretches," says Greg, 52. "I had no idea I was going down the road to total hip replacement (THR)."
X-rays showed what was causing the pain. Greg suffered from avascular necrosis (AVN). With AVN, cellular death of bone – most commonly hip bone – occurs due to interruption of the blood supply. It not only causes pain, but loss of joint function and long-term joint damage. AVN accounts for more than 10 percent of total hip replacement procedures performed in the U.S.
"My Hoag Orthopedic Institute orthopedic surgeon ordered a battery of tests," Greg recalls. "He came to the conclusion that my AVN had resulted from mountain biking head injury treatment I had in 1995. I had never taken steroids before, but they were pumped into me after my accident, and steroids can cause AVN."
Greg also consulted with an orthopedic surgeon in Los Angeles. He confirmed what his HOI doctor told him. The degradation in both hips was widespread, and was worse in his right hip. Greg needed joint replacement.
"I was very comfortable with my Hoag Orthopedic Institute hip surgeon, and I read a ton about hip replacement procedures," says Greg. "The classes my wife, Pam, and I went to at HOI helped tremendously. The fear of the unknown went away once I had all the information on what I'd go through before, during and after my procedure."
Greg was a candidate for Hoag Orthopedic Institute's Enhanced Recovery Program (ERP), which would enable him to go home the same day as his surgery.
"For both of my hip replacement procedures, I went in at 6 a.m. and went home about 6 p.m. That was perfect for me. I wanted to sleep in my own bed."
"I have nothing but high praise for the folks at HOI. On both visits, from the moment I checked in, the staff was approachable and comforting. I never felt like a number. It was clear they knew what they were doing and that put me further at ease."
A technical director in the food and beverage industry, Greg is now able to walk around the plant where he works and climb on equipment without pain.
"I only wish I'd had my hip pain checked out and dealt with sooner," he says.
Just four months after his last surgery, he returned to hiking with Pam and their athletic 15-year-old daughter, Hannah. He's a little sad that he won't be running any marathons with Hannah, but says he will be happy to cheer her on from his bike as she runs.
Six month post-op, Greg went back to Utah for another mancation mountain biking trip. "I took it real easy," he says, "but this May, my friends and I will be going back to ride up to 150 miles in the mountains over four to five days. In the past 12 months I have logged 2,048 miles of road and mountain biking. My new hips are treating me well!"