Back to Family Fun
Patient: Keith
Category: Hip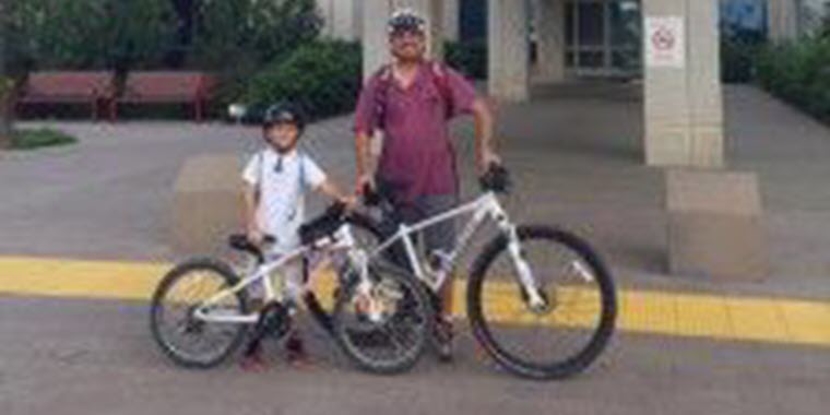 " If I need to have my other hip replaced, I know where I want to go. My recovery has been great."
Photo: After reaching his 150-mile cycling goal, Keith and his son, Christian, stop for a photo in front of HOI. He was at the facility four months having hip replacement surgery.
A degenerative and painful bone disease called avascular necrosis, or osteonecrosis, leads to the death of bone tissue due to a lack of blood supply. At just 39 years of age, Ladera Ranch, CA, resident Keith was one of about 20,000 receiving surgical intervention for osteonecrosis in 2013.
Keith sought relief by having core decompression surgery, performed at another area facility. The procedure typically involves drilling holes into the femoral head to relieve pressure in the bone and create channels for new blood vessels to nourish the affected areas of the hip.
Unfortunately, months after the hip-preserving procedure, the pain remained. To make matters worse, Keith's hipbone collapsed, which he believes happened because the bone was weakened by the holes. His surgeon told him he would need to wait a year before having a hip replacement and to exhaust all other possible avenues first.
"I was using a cane for nine months," recalls Keith. "My condition limited my time with my two kids to doing board, electronic and reading games. When we went to Disneyland I had to take an electronic scooter. I couldn't help my wife much around the house. I couldn't even stand at the sink to do the dishes."
As the chief technology officer was no stranger to Internet research, and looked online for answers. "I had decided not to go back to the surgeon who performed the core decompression. Online I found out about the anterior approach being done at HOI. I was impressed by how involved their doctors are in innovative new procedures and technologies.
"When I went to see him he answered the few questions I had, and told me I was great candidate for anterior approach. My procedure was scheduled for that month."
The anterior approach Keith had is a tissue-sparing alternative to traditional hip replacement surgery that provides the potential for less pain, a faster recovery and increased mobility because the muscle tissues are spared during the procedure. The surgeon uses one small incision on the front (anterior) of the hip as opposed to the side or back.
Keith's hip replacement took place in June 2013. "This surgery was a totally different experience," he relates. "For me, the biggest plus was the class I attended at HOI weeks before surgery. You meet the nurses, therapists and doctors you will be interacting with, and they tell you exactly what you can expect – there were no surprises."
Like many people afflicted with osteonecrosis, the disease affects both of Keith's hips. Dr. Barnett recommends conservative approaches first, such as anti-inflammatory drugs.
"My condition could go away on its own, or it could be years before I need to have that hip replaced," says Keith. "If I need to have my other hip replaced, I know where I want to go. My recovery has been great."
Hours after surgery, Keith was up out of bed and walking. He returned home the next day. "I took it easy for six weeks. After that I was doing a lot more fun activities, like throwing a ball with my son or riding amusement park rides. Where before I could barely walk around the pool, I've been swimming laps. I can help out a lot more around the house. My wife is overwhelmed by what I can do now – in fact, she's telling me to slow down! She has trouble keeping up with me on a bike."
Now that he's more active, he's also achieving weight loss goals and weighs about 30 pounds less than before his surgery.
In September, Keith set a goal to bike 100 miles and reached it. In October, with his son at his side, he was just shy of his 150-mile goal for the month as he pedaled by HOI. "I thought it would be neat to finish up at the spot that enabled me to bike again in the first place, so we went back out for another quick circle and reached the goal," says Keith.
Photo: After reaching his 150-mile cycling goal, Keith and his son, Christian, stop for a photo in front of HOI. He was at the facility four months having hip replacement surgery