Back to Water Aerobics
Patient: Linda
Category: Hip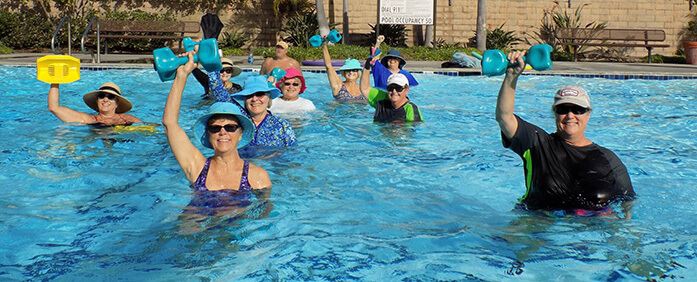 " All of the caregivers I interfaced with gave me great encouragement and help."
Procedures: Left and Right Anterior Approach Hip Replacement
Linda Marsoun, 76, uses her joint replacements as a springboard to a healthy and active lifestyle. "We knew I would be in very good hands at HOI," she says.
"It's wonderful to have the assurance that you can be healed with a minimally invasive hip replacement," says Linda. "If you've been blessed with good health but have a deteriorating joint affecting your quality of life, it may be time to take the plunge!"
In 83-degree pool water under sunny Southern California skies, Linda Marsoun's exercise instructor shouts over upbeat music, "Move those hip flexors!"
Linda, 75, uses her joint replacements as a springboard to a healthy and active lifestyle. Linda took up water aerobics with the enthusiastic endorsement of her surgeon a few months after her first (left) total hip replacement (THR), and again after right THR. By complying with her doctor's post-op instructions, and strengthening her hips with fun weekly workouts, the Huntington Beach retiree has propelled herself to an optimal level of fitness.
When Linda retired from her job years ago, as an Orange County court clerk, she didn't miss the long sessions of sitting through court proceedings. "You couldn't tell the judge you needed to stop and stretch," she says. Linda points to her career, along with a jogging phase and a family history of arthritis, as factors in her bone-on-bone hip condition that increasingly limited mobility.
"Gardening had become painful, vacations were less enjoyable and my husband, Bob, was having to work too hard to help me," says Linda. Her big 'aha moment' came after just going to see a movie with Bob. "I was in so much pain and couldn't get comfortable. When we got home, Bob tried to help by getting me a heating pad and Tramadol so I could sleep."
Linda's primary doctor referred her to an orthopedic surgeon. "We knew nothing about the surgeon's reputation, but Bob did some research and was so impressed by what he discovered," says Linda. "We knew I would be in very good hands."
Prior to her procedure, Linda called a friend from work who, coincidentally, was having her second hip replacement surgery at HOI on the same day as Linda. She gave Linda confidence and insights, as did the pre-op class Bob and Linda attended, where all their questions were answered.
"All of the caregivers I interfaced with gave me great encouragement and help," says Linda, "from the surgeon and the physician assistant in his office, to the nurses in the pre-op class and working in the hospital, as well as the post-op therapists."
For her first procedure, Linda stayed in the hospital for two nights. She remembers that within an hour of waking up in her room, a therapist came by to encourage her to walk. "She said, 'Let's try it," and I said, "Yeah, let's!"
Linda didn't hesitate to schedule a right THR as soon as she noticed her other hip was giving her trouble. "I knew I had no cartilage left, and I didn't want to experience the disability and pain I'd had with my left hip. My second procedure was even easier for me, probably because I knew what to expect. I went home after just one night, which is what I wanted. When the anesthesiologist came to see me before my last procedure, I shared my concern that I was confused from the anesthesia following my first surgery. He told me, 'I can fix that,' which was very reassuring to me, and he did!"
The three-inch-long scars from her anterior approach procedures have faded to be barely noticeable. She's able to get down on the floor to play with her first great grandchild. She walks her English springer spaniel daily around the neighborhood park.
Several of Linda's classmates in her thrice-weekly water workouts have also recovered from hip or knee replacements. Together they do jumping jacks, scissor kicks and lunges nonstop while wielding water-filled dumb bells, thereby increasing range of motion, balance and stamina without putting stress on new or original joints.
It's wonderful to have the assurance that you can be healed with a minimally invasive hip replacement," says Linda. "If you've been blessed with good health but have a deteriorating joint affecting your quality of life, it may be time to take the plunge!"
Photograph compliments of Linda Marsoun