Back to Walking
Patient: Cheri Aiken
Category: Spine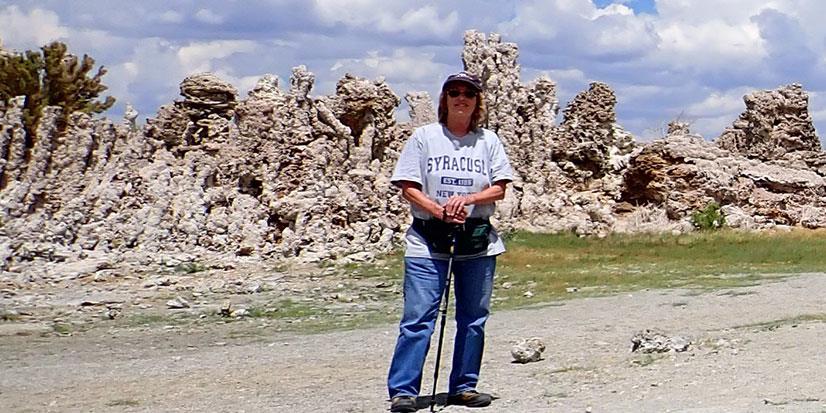 " I can honestly say, I feel like I've been given my life back," said Cheri. "The pain and numbness are gone. I can easily do my downtown walks, and I have joyfully joined my friends on the trails. I feel I have been given a gift and I am so grateful for that."
An avid walker from Laguna Beach, Cheri Aiken was always walking somewhere, whether around her downtown community, her favorite Blues Festival or hiking in the mountains.
But after experiencing excruciating pain while walking, she sought treatment for her back, and was diagnosed with advanced spinal stenosis.
"Before my surgery, I couldn't walk more than a dozen feet without my left leg numbing up and my back aching," said Cheri. "So, I hoped that after surgery I would be able to walk like I always did before, without pain or numbness. And, if all went well and I was very lucky, I might be able to head to the desert or mountains again and hike through the trees and up the trails... my favorite outdoor fun."
Cheri ultimately selected Michael Gordon, MD, an experienced spine surgeon affiliated with Hoag Orthopedic Institute, and had lumbar spinal fusion at HOI Hospital in February 2022. Reflecting on her journey one year later, Cheri said she is extremely grateful for the excellent care she received at HOI and Dr. Gordon's office.
"I can honestly say, I feel like Dr. Gordon has given me my life back," said Cheri. "The pain and numbness are gone. I can easily do my downtown walks, and I have joyfully joined my friends on the trails. I feel I have been given a gift and I am so grateful for that."
Cheri said that her experience at the hospital during her short stay went smoothly as well.
"Everyone at HOI was so kind and caring. I felt like I was in good hands the entire time. The nurses, physical therapists, and the ladies who came in to clean the floor were so cheerful and ready to help," Cheri added.
After discharge, Cheri said that the care she received at the rehab facility she discharged too, and at home, were crucial to her recovery.
"Since I live alone, I was able to go to a rehab facility and those few days were very helpful. At home, I followed all the post-op guidelines and did my exercises – mostly walking with my walker, then my cane – and I took my meds when I needed them."
Cheri was back at her job just three months after her spinal fusion, serving others in need at the Laguna Food Pantry.
"Now, I don't lift heavy crates, but I routinely lift 20-25 pounds easily," she said.
Cheri's advice to others considering back surgery is to get as strong as you can prior to surgery, and to follow your doctor's instructions.
"At first I went to PT for a few months – trying to avoid surgery – and I think that strengthening helped my body get back in shape quicker than if I hadn't done anything," she said. "I still do my exercises (planks and bridges) and will continue to do so."