Back to Thriving
Patient: Annie Nelson
Category: Spine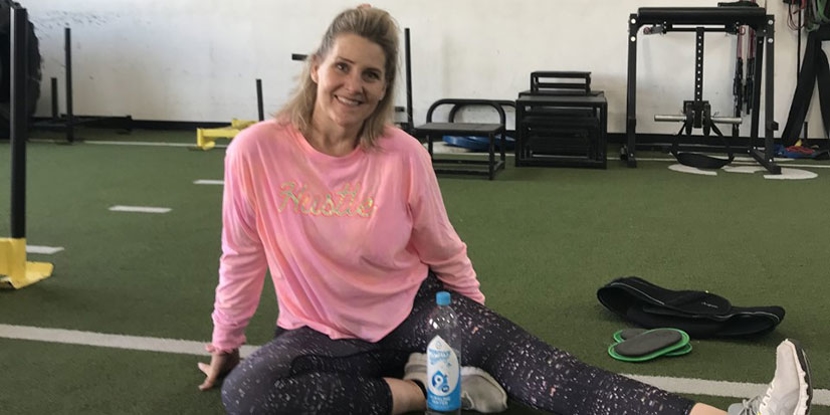 " There are no guarantees with surgery, but when you have complex case and have tried for 20 years to avoid surgery, you want to put yourself in the best possible scenario with the best possible team, and together get the best possible outcomes, and I found that with Dr. Smith, HOI and ProSport."
Annie Nelson is not only a survivor, but she's thriving. The 53-year-old active Orange County resident is recovering from a recent spinal fusion that has been years in the making.
"I've had back pain since 1994 and have been managing it for 20 years with physical therapy and epidurals," Annie shared. "I was starting to drag my leg, lose sensation and couldn't control the movement, so I knew that surgery would have to be the next step."
Annie is no stranger to surgery or physical therapy, having experienced six concussions, two brain tumors and a rib removal from a thoracic outlet surgery. Annie selected Hoag Orthopedic Institute and Jeremy Smith, M.D. after researching spine surgeons that could handle complex cases, asking her doctors and care team for recommendations.
"There are no guarantees with surgery, but when you have complex case and have tried for 20 years to avoid surgery, you want to put yourself in the best possible scenario with the best possible team, and together get the best possible outcomes, and I found that with Dr. Smith, HOI and ProSport," she said.
Annie first underwent disc replacement and S1 level spinal fusion in 2020 but started experiencing pain down her left side, so she underwent a second spine surgery in April 2021, a second fusion of the level above her first surgery.
Now working with ProSport's Laguna Hills PT Laura Scott three times a week, Annie said she's feeling stronger every day and ready to get back to being active.
"After my initial back injury, I found ProSport Physical Therapy and knew that was where I'd want to rehab," Annie shares. "Because I come from a sports broadcasting background, I know a lot of athletes who go to ProSport because they are the best and although I am not an elite athlete, I wanted to work with the best too."
Annie shares that her favorite exercises (that she's working back to) are foam rolling, bossu ball, TRX, therabands, and other exercises that use her bodyweight.
"I am a mind over matter person with a whole-body approach and I love that my care team gets that and encourages it, so I am working on these exercises at home too," Annie shares.
Follow Annie's rehab journey and PT exercises as she continues her recovery on our Instagram @hoagorthopedic!