Back to Swimming
Patient: Rita
Category: Hip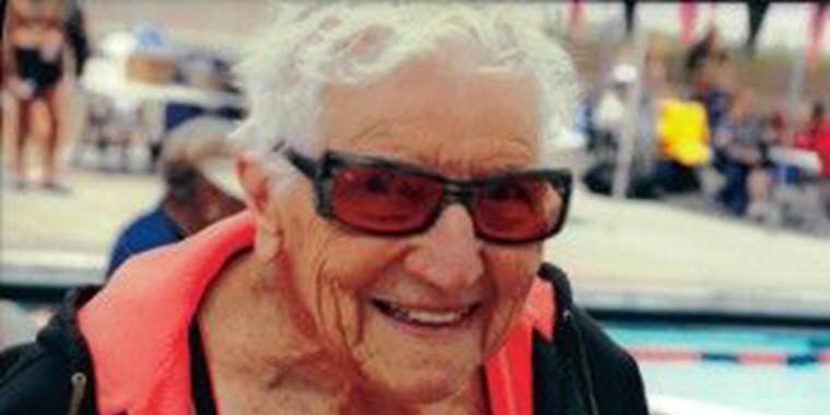 " Everybody was so kind. They had me out of bed and moving the day after surgery."
"If you can't outkick them, outlive them," quips Rita, who has set eight world records in swimming since turning 95 this year.
Winning the records has been exhilarating, but what's kept her lapping through the pool is a desire to get stronger and to live longer. "Swimming is peaceful," says Rita. "I solve all my problems in the water, and afterwards I always feel better."
As a young girl who loved racing her father across a Connecticut brook, Rita honed her swimming skills and whetted her appetite for competition. Rita's parents encouraged her to be active as she grew up in the Roaring '20s, although most high schools didn't have pools and young women didn't commonly compete on swim teams. She continued swimming and other athletic pursuits until raising her own two children took priority. But two decades later, she jumped back in the pool and, in 1972, set her first national record. It was in the 200-yard individual medley – an event requiring mastery of four swimming strokes. She's now an International Masters Swimming Hall of Famer.
Arthritis has taken the nonagenarian's ability to stand up straight and causes pain in her hands and feet. It also led to a hip replacement two years ago that kept her from kicking across the pool – for about a month. "There were some big swim meets coming up that I didn't want to miss, but my right hip was bone on bone," she recalls.
"I was well taken care of at Hoag Orthopedic Institute," continues Rita. "Everybody was so kind. They had me out of bed and moving the day after surgery."
Rita left the hospital and spent two weeks in a rehabilitation facility before heading home to Huntington Beach. She recalls, "It's a little unusual for someone my age to have hip surgery, but I was more physically prepared for surgery than most people years younger than I am."
Rita started back in the water with two laps, then four, then 10. A year and a half later, she was once again breaking records. Her proudest achievement: shaving 15 minutes off the previous world record holder's time, completing a 1,500 meter freestyle swim in under 42 minutes. If she lives to 100, she has every intention of breaking new records in that age division.
Rita adds, "For me, swimming is less about the speed than the endurance." And how.