Back to Hiking
Patient: Bob Jensen
Category: Knee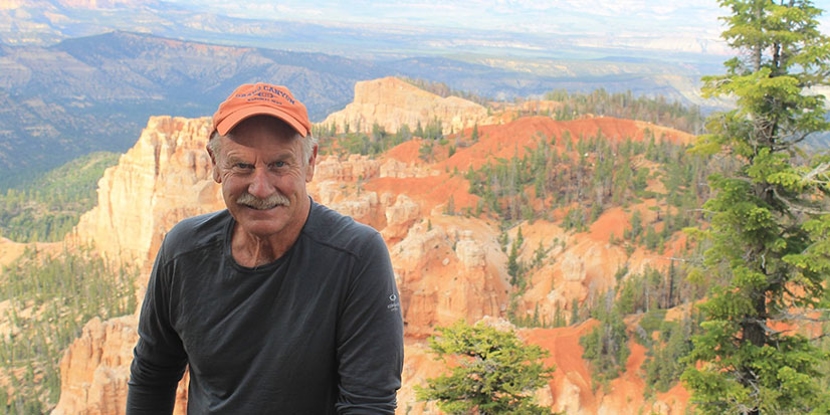 " I feel strong and like I am in the best physical condition of my life as I am preparing for my High Sierra backpacking trip. In 2020, I was able to do 50 hikes and this year I hope to get to 60 hikes."
Seventy-year-old Robert (Bob) Jensen is more active than many young adults, hiking more than two times per week. But Bob has had to overcome a variety of health challenges to reach his milestones.
"After an unsuccessful arthroscopic knee surgery in 1999, which ended my basketball playing days, a variety of orthopedic doctors told me that I was a candidate for knee replacement surgery," he shared.
Bob continued his active lifestyle through the years, turning to hiking to upgrade his wellness program.
"The more I hiked and enjoyed it, the more I realized that it was finally time to replace my knees," he shared. "I wanted to maintain an active lifestyle in my seventies, which made me decide to stop delaying knee replacement surgery."
Turning to his friends for recommendations on orthopedic surgeons, Bob first met with a surgeon who told him to "start acting like a 70-year-old so I wouldn't need knee surgery." But an active lifestyle is important to Bob, so he met with Steven Barnett, M.D. with Hoag Orthopedic Institute in 2019 to discuss his options.
In January 2020, Bob underwent bilateral knee replacement surgery, and credits his doctor, Hoag Orthopedic Institute, and his physical therapy team for helping get him back on his feet so quickly.
"I started walking right away, increased my walks with a walker and then without, and eventually used the trails near my house to increase the mileage while working closely with the physical therapists monitoring and encouraging my progress," Bob shared. "Had I not torn the two tendons in my left foot three months after surgery, I would have been able to answer that by three months after surgery I resumed regular activities."
Bob continues to work with his physical therapists due to his longstanding foot issues and even with that challenge, is still doing two challenging hikes per week.
"I feel strong and like I am in the best physical condition of my life as I am preparing for my High Sierra backpacking trip," he said. "In 2020, I was able to do 50 hikes and this year I hope to get to 60 hikes."