Back to Golfing
Patient: Kevin B
Category: Spine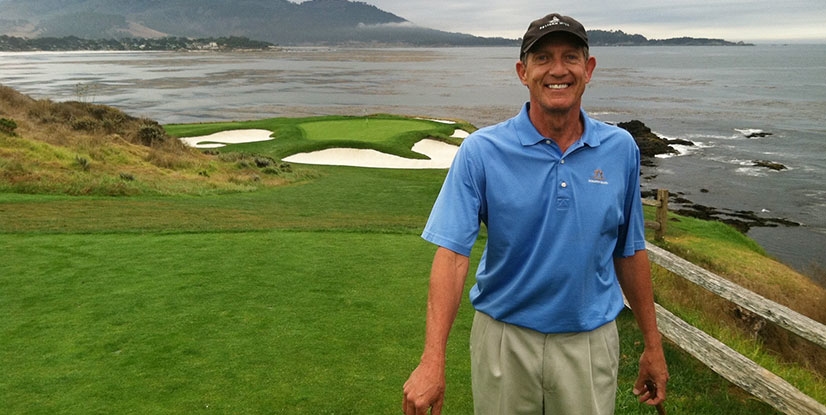 " The surgery was a complete success," Kevin said. "My back is feeling better every day and I do not have any pain."
2020 looks a lot different than 2019 did for Kevin Budde. The Newport Beach resident is an active golfer and runner who ran three half marathons and six 10k races in 2019 in addition to playing golf once per week.
Unfortunately, a change in his swing designed to increase the power of his drive, led to extreme back pain, which ultimately led to an inability to walk earlier this year.
"The first round of golf using the new swing was my last because by the time I got to the 18th hole my back was in pain and it was difficult to walk," Kevin said.
Kevin and his wife began researching doctors and quickly discovered one thing in common – Hoag Orthopedic Institute.
"A work associate of mine had spine surgery at HOI and he highly recommended Dr. Gordon," Kevin shared. "My next call was to schedule an appointment."
After a successful herniated disc surgery on June 1 with Dr. Michael Gordon, orthopedic spine surgeon, Kevin went through physical therapy at home and two months later, is walking daily, including up and down stairs without assistance.
"The surgery was a complete success," Kevin said. "My back is feeling better every day and I do not have any pain."
Kevin also shared that while his physical therapists and Dr. Gordon have urged him to slow down his recovery to give his back ample time to fully heal, he is looking forward to golfing most.
"I have full respect and total appreciation for Dr. Gordon and I know my best interest is first and foremost with him. But I jokingly told him I would give up cliff diving and bungee jumping as long as I can golf again."