Back to Golfing and Bowling
Patient: Barry
Category: Hip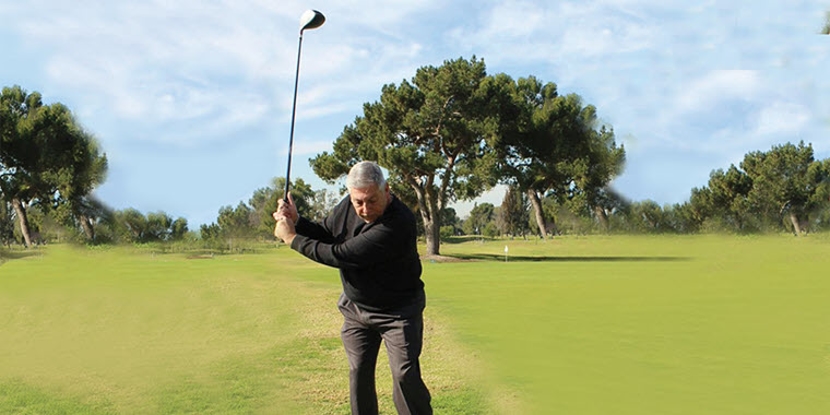 " I went back to work six days after the surgery. I used the cane for a total of 10 days, and have not needed any assistance walking since then."
In the 1970s, Dr. Barry Schleider worked nights as an orthopedic physician's assistant at LAC + USC Medical Center. Seeing far too many gunshot wounds, amputations, and people passing away in his arms, Dr. Schleider spent his days attending chiropractic college. Since then, he has dedicated his career to non-surgical spinal decompression therapy and pain relief.
In spite of his own painful hip condition, Dr. Schleider never considered hip replacement surgery. He suffered from Legg-Calve-Perthes Disease, a degenerative condition of his left hip diagnosed at age 10. A schoolyard football tackle rendered him unable to play ball or ride his bike for the next five years.
Dr. Schleider recalls, "By the time I was finally off crutches I was a high school freshman. Because my arms and shoulders were well built from years of walking on crutches, coaches recruited me for the gymnastic and wrestling teams."
Throughout his 64 years, Dr. Schleider has maintained a high level of fitness. Although he always hated his handicap, having a hip replacement at an early age, he reasoned, could lead to multiple surgeries throughout his life. But last year on July 3, he ran out of options.
"I woke up in terrible pain, with my leg twisted in and severe muscle spasms in my left hip," he recalls. "I never miss work, but from then on I had to use a cane." Several structures of his hip finally gave way, leaving him no choice but to research having a total hip replacement.
"Fortunately, the timing was finally right for me," he says. "Years ago I had seen my sister have joint replacements with long recoveries, but I don't have that kind of down time with my practice. With the newer anterior approach procedure, there is no cutting of muscle so it's less painful and recoveries tend to be faster."
The surgical experience turned out to be "magical," Dr. Schleider says. "I was back on my feet, walking with a walker just four hours after an early morning surgery. I went home that evening, and by the fourth day I was using just a cane. By day two I was off the narcotic pain medication and only taking Tylenol for minor discomfort. I went back to work six days after the surgery. I used the cane for a total of 10 days, and have not needed any assistance walking since then."
While replacing Dr. Schleider's left hip, the surgeon was also able to lengthen Dr. Schleider's leg, which was more than two inches shorter than his other leg. He's adjusting to walking without a limp, and his back pain from the limp due to his shorter leg is gone.
Dr. Schleider shares, "I have three adult children and three grandchildren. All their lives they've had to wonder how to get their dad up those stairs or would have to drop grandpa off near an entrance. Now I can enjoy time with my kids without their making concessions. I can walk everywhere. I can do the work I love without pain. In February it will be six months since I had surgery, and by then I will be able to bowl and play golf. It's mind-boggling how life-changing this procedure was for me."