Back to Fighting Fires
Patient: James
Category: Hip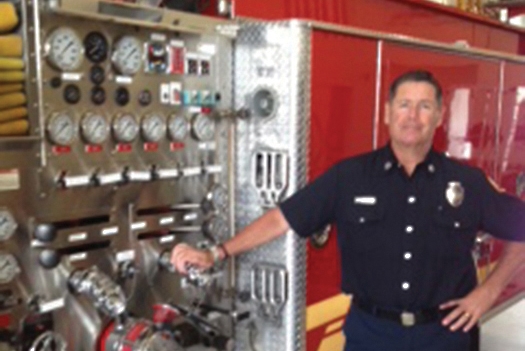 " I'm looking forward to getting back to working on cars in my garage, cycling and hiking – without a limp!"
As a fireman, James Fitzpatrick has always stayed in shape. He ran three to four miles for fitness. He hiked the steep ravines around his Palos Verdes fire station wearing heavy protective gear. But after 28 years, the job had taken its toll.
"I got to the point where I just couldn't do my job. I couldn't even bend over to tie my shoe because of the pain," Jim confessed.
Jim sought help for his back, only to find out it was a deteriorating right hip that was causing the pain. Months later, after trying conservative therapies with no relief, Jim scheduled hip surgery.
Since having the procedure, Jim's only regret is not having it sooner. He was most impressed with how smoothly the experience went.
"In HOI classes, staff explained everything about my care so that I was well aware of what would happen and when," says Jim. "My wife, Jennifer, and I learned practical things like going up and down stairs and getting in and out of your car. They encouraged me to call anytime I had questions. I was well versed by the time I had surgery, which made the experience so much easier."
Because Jim's 6'3" frame carrying 240 pounds called for considerable medication, to be cautious, his doctors had him stay overnight at HOI. Jim recalls, "Everything impressed me, especially how incredibly sensitive everyone was. They were a great team, constantly on their game.
"My wife remembers being in this facility in 2000, before it was remodeled and became the home of HOI. She couldn't say enough about how much nicer the surroundings and staff are now."
Within three days of hospital discharge, Jim was off his pain medications. Within three weeks, he was driving – without the pain that used to accompany using the gas and brake pedals. He was once again walking his Golden Retriever around his San Clemente neighborhood, and preparing to return to his physically demanding job.
"I'm planning on working a few more years before I retire, and now I can," says Jim. "My running days may be over, but I'm looking forward to getting back to working on cars in my garage, cycling and hiking – without a limp!"