Back to Extreme Surfing
Patient: Rick
Category: Sports Medicine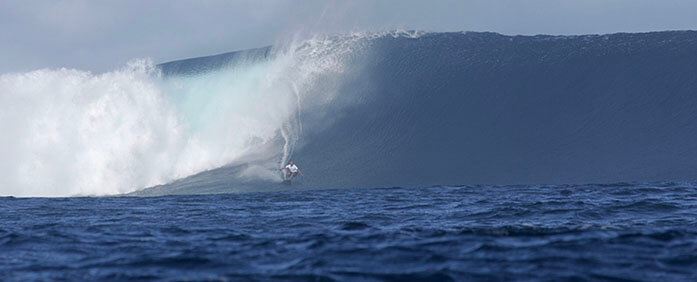 " It was refreshing to find a doctor who was thorough, confident and pro-sport. I have nothing but respect for my HOI surgeon. He did such a good job for me. He changed my life, and enabled me to have a lot of fun."
Procedure: Anterior Approach Left Hip Arthroplasty
A love for extreme sports and big-wave surfing caused Rick Isbell to "wear out his health warranty early," as he describes his condition. Through personal research and recommendations from friends and health care professionals, Rick finally found the right surgeon.
"It was refreshing to find a doctor who was thorough, confident and pro-sport," says Rick. "He never made me feel like I couldn't get back to doing what I love, unlike other doctors I'd seen. I have nothing but respect for my HOI surgeon. He did such a good job for me. He changed my life, and enabled me to have a lot of fun."
Self-described adrenaline junkie Rick Isabell loves the out-of-doors as well as the power, speed and thrill that comes with surfing. At age 18, went on a vacation to Fiji to surf good waves, and couldn't get enough of it. He eventually became a business owner, running Tavarua – a small, boutique resort that is world famous for surfing, and lives there much of the year.
"I remember years ago having a classic wipe-out. I did the splits, like a cheerleader, which I'd never done before," he says. He's pretty sure that's when he sustained a tear to his labrum (a band of cartilage surrounding the hip joint). X-rays showed a large calcified piece of hip bone that caused his cartilage to deteriorate.
"I kept putting off surgery, wanting one more season of big surf, but my pain and mobility just got progressively worse. By my late 40s, my mobility was so bad I couldn't get to my feet on my board. It was ridiculous. I couldn't even bend over to tie my shoes.
"The last couple of years before surgery I could no longer jump up on my board, so I switched to tow-in surfing, pulled by a jet ski. It got to the point that I couldn't sleep at night, no matter what position I was in. I started using crutches to walk, and became very depressed. That's when I threw in the towel," he says.
Rick had tried several types of injections and received chiropractic care, but he wasn't seeing results. "Going to the HOI facility, I knew hips and knees were their gig and they'd done thousands of cases. Like anything, the more you do, the better you become at it." He adds, "I loved the facility where I had my surgery. It was like a beautiful hotel, and the whole experience was positive."
In a matter of hours after Rick woke up from his hip replacement procedure, he was walking around the hospital floor. "Immediately I had less pain," he claims. "I didn't realize how much I'd been enduring."
"I didn't want to mess anything up, so I did my physical therapy religiously," says Rick. "Within a matter of weeks, I was mountain biking to get stronger. I also did a lot of ocean swimming and stand-up paddle boarding in calm water to work my ligaments and hip area. Eventually I got back to surfing, and now I'm more proficient than ever.
"Sports evolve, and I've found I really like foil surfing – it's exhilarating," says Rick. Foil surfing is a hybrid of surfing and hydrofoil technology. It replaces the traditional fin at the bottom of a surfboard with a much longer, hydrodynamically designed fin, or blade.
Rick adds, "I still have a passion for big wave surfing when conditions are epic. But with foil surfing, a two-foot wave can feel like a ten-footer. It's actually more taxing on my hip because it requires more power, pressure and torque. It's more technical and intense, and I still have a long way to go to increase my skill level. It's new and it's pushing me, and I'm enjoying the challenge.
"Now that I'm older and wiser, when conditions are sketchy, I avoid them, and I don't surf until I'm exhausted and start making mistakes. I weigh the risks and I'm not as reckless, but I'd still rather go out with a bang," he says.
He continues, "I know a lot of extreme sports junkies who tend to push themselves hard and wore things out. "I have a few years behind me since my surgery, and feel very confident in referring others who have hip or knee problems. Talk about a life-changer! I'm very grateful my outcome was so positive."
Photograph compliments of Rick Isbell