Back to Exploring Hawaii
Patient: Lawrence
Category: Hip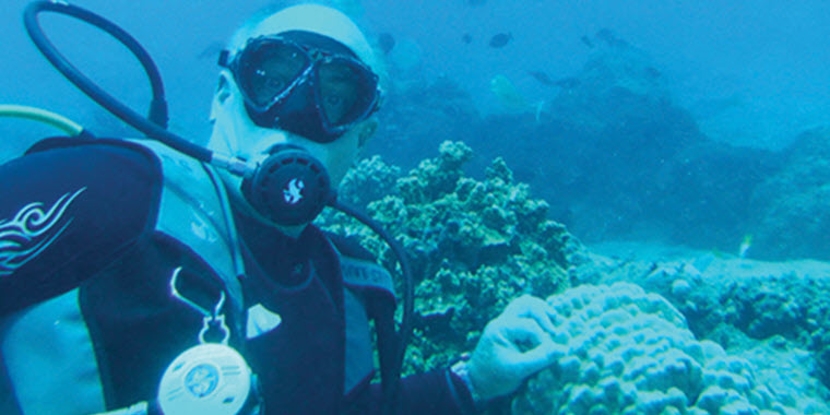 " I'm pain-free. My new hip has made everything I do in life more comfortable and enjoyable."
Lawrence Taylor's love for the water grew through spearfishing to catch his dinner while serving in Micronesia and the Philippines as a missionary. Although he was only in his 50's, swimming became the only way Larry could exercise without pain from impact.
By the time his ministry brought him to Hawaii, Larry walked with the classic flat-footed, heel-raised limp of someone with hip pain. Church members in California encouraged Larry to seek treatment from medical specialists at Hoag Orthopedic Institute.
After a clear diagnosis of degenerative osteoarthritis in his right hip, Larry researched his options. He had no reservations about proceeding with the minimally invasive anterior approach hip replacement his doctor recommended. To prepare, he attended the hip replacement class at HOI presented by "very helpful nurses and therapists who walked me through the whole process."
He adds, "I was one of the younger patients in the class, and the least apprehensive. I had done my homework online and talked to others who'd had a rapid recovery from this surgery. I was so ready to leave behind the pain that I'd had for almost 10 years."
The first thing Larry remembers after having surgery on July 31, 2013, was being transferred from a gurney to a bed in his private room. "Right away it was amazing to me what a big change I had." They moved me without pain. By the next day, in my last physical therapy session before leaving the hospital, I didn't need a walker; I could walk with a cane."
Within a few days, Larry was walking around the Orange neighborhood where he was staying with friends and working with a home health physical therapist. Within a few weeks, his doctor cleared him to fly back to Honolulu. Larry had no limitations, only an admonition not to overstrain his new hip and return in a year for a check-up.
Since returning to Hawaii, Larry has been back in the water, snorkeling, and soaking in nature with walks on the island. "I'm so thankful I was sent to HOI and appreciative of the prayers, support and great care I received," says Larry. "I'm pain-free. My new hip has made everything I do in life more comfortable and enjoyable."