Back to Dancing
Patient: Shoja
Category: Spine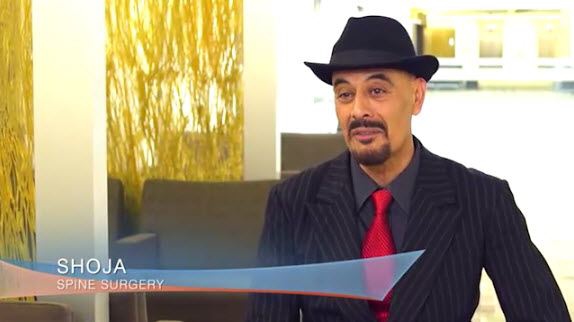 " It gave me confidence that the facility is so modern and the staff is so responsive."
For the past decade, Irvine aerospace engineer Shoja's zest for life led him to grace many dance floors as a tango enthusiast.
"I was looking for something different, and once I learn the basics I fell in love with it," says Shoja. "Tango dancing became a lifestyle, a passion. I began dancing five nights a week. I've traveled to cities in Europe and South America to dance, met great people and made so many friends. Dancing keeps you young."
Tango takes athleticism to master its fluid elegance and gymnastic-like lifts, drops and jumps. Those moves become impossible with neck pain, as Shoja knows all too well.
He blames "little injuries" through the years – such as a fall off a mountain bike and another playing ping-pong – for the compression, or rubbing, of four discs against his upper spine. An MRI ordered by his doctor showed that Shoja's spine was not protected, and even a minor injury could be catastrophic.
"It was scary for me," admits Shoja. To cope, he did yoga and strengthening exercises. An epidural shot and pain killers provided pain relief, but in the months to come Shoja's dancing became much more conservative. As a sideline, he taught tai chi, but his condition also limited his instruction methods.
"The thought of major surgery was scary for me, but I didn't want a band-aid," says Shoja. "I wanted to address the problem, once and for all."
Shoja's complex surgery at Hoag Orthopedic Institute was done in two stages: from the front and the back. "It gave me confidence that the facility is so modern and the staff is so responsive. I've taken my mother there, so I had seen that the nurses are very compassionate and know what they're doing."
When Shoja awoke after surgery in his hospital bed, he recalls joking with the nurses. "I was quite medicated but I told them, 'I can dance!'"
After a five-day hospital stay, Shoja returned home. "I went back to work a week later. It was tiring, but I've kept up my physical therapy, eating well and trying to get the sleep I need," says Shoja. "I'm careful to wear a neck brace most of the time so that it heals correctly."
When Shoja told his friends and colleagues about his experience, he was surprised to hear how many of them had back pain issues, too. "They're trying to avoid surgery," says Shoja. "I tell them the technology and capabilities have really improved, even for complicated surgeries like mine. I recommend having their problem checked out."
Just one month after his surgery Shoja stepped back onto the dance floor, without pain. "I'm taking it slow, but my doctor claims I can eventually be back to dancing five nights a week," says Shoja, with a lift to his voice. "I'm so glad I took steps to enjoy my quality of life, for the rest of my life."