Back to Cycling
Patient: Todd
Category: Hip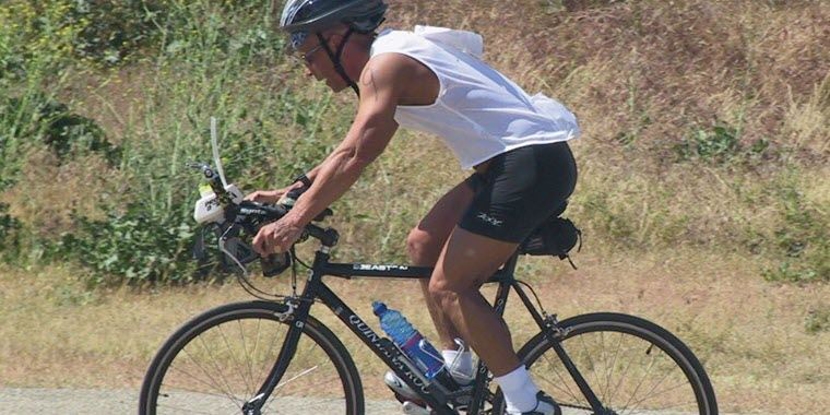 " Now that my hips are pain-free there are a million hobbies I want to pursue."
Energy industry executive Todd Witwer describes traveling from California's Central Valley to HOI for left and right hip replacement procedures as "the red carpet treatment." His wife, Deana, considers his care through HOI's Travel Medicine Program as "the best thing that could have happened."
Todd blames running in one too many marathons or triathlons for deteriorating hip joints at the relatively young age of 60. A local orthopedic provider managed his painful condition for three years. But when temporary relief through cortisone injections decreased to just a few weeks, hip replacement was recommended.
"Once my company's insurance provider was involved, they presented me with the option of having surgery locally, or with HOI in Orange County. In evaluating which I would choose to perform my surgery, it was clear that the HOI surgeon and team credentials were far and away the best. And, the rates our self-insured plan provider had negotiated with HOI were better than what the procedure would cost locally."
Through the Medical Travel Program, Todd's procedure was 100 percent covered, with no outof-pocket cost. The bundled care plan not only covered all the costs of the procedure; it also took care of post-op rehabilitation, travel to Southern California, meals and recovery at a local hotel of his choosing for himself and Deana.
Todd's left hip replacement was done first, in January 2015. He recalls, "We arrived on Wednesday and went to HOI for my pre-op appointment. I had surgery in Newport Beach (at the Orthopedic Surgery Center of Orange County) on Thursday, and was released the next morning. We stayed in the hotel until the following Thursday when I had my follow-up visit. I didn't need to take any major pain killers – just two Tylenol a day – so I was cleared by my doctor to drive home."
Todd took just nine days off work before returning to his desk, with a pillow to sit on and ice packs. He used a cane for a week and a half before walking unassisted.
Because his first surgery had gone so well, when hip pain in his right hip increased, he didn't hesitate to schedule his second procedure at HOI, performed in October 2015.
"No one can say surgery is enjoyable, but I can tell you my surgical experiences far exceeded my expectations," says Todd. "The staff treated me like I was really important. The first time I was there I had my own nurse. The second time, I had two nurses!"
Less than two months after Todd's latest procedure, he was taking spinning classes at his gym, and daily walks with Deana. He adds, "I don't plan to run anymore because I want my new joints to last the rest of my life, but I'm looking forward to street cycling with my daughter, target shooting and wood working. Now that my hips are pain-free there are a million hobbies I want to pursue."