Back to Boxing
Patient: Brad
Category: Sports Medicine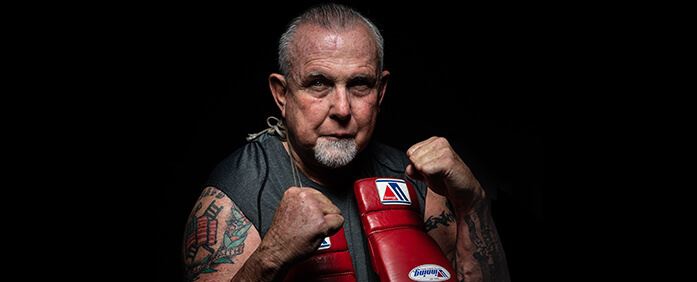 " People ask me about my knee replacement and I tell them: surround yourself with the best people. My doctor and the HOI staff are definitely the best."
Procedure: Right Total Knee Arthroplasty
When Brad retired nearly 20 years ago at age 52 from a physically demanding 30-year career with the Santa Ana Fire Department, he wanted to learn to box, so he found a local club where he could train. From his first rounds there, boxing and mentoring the club's at-risk kids became his passion. But about 10 years later, Brad found himself fighting through the pain of an arthritic knee.
His orthopedic doctor recommended surgery a few years ago. "I told him I wasn't ready, so he suggested some injections. I had some relief, but only for a few weeks each time. He finally told me I had two choices: have my knee replaced, or continue to live with the pain. I realized I didn't want to do that anymore. Now, I wish I'd had it done earlier," he says seven weeks post-operatively.
"God gave me a right hook, but I've been back up by the count of three," says Brad about his health challenges.
"Most guys retire and take up golf," quips Brad's wife, Sandra. "Brad took up boxing."
Brad elaborates, "I found TKO Boxing Club in Santa Ana. It brings inner city kids off the streets and provides a healthy alternative to gangs. I fell in love with the kids and knew if I wanted to mentor them, I had to get in the ring. I had to know what it's like to mix it up."
Also after retirement, Brad and Sandra began an industrial scrap metal recycling business, where he now employs several young men so they can earn a living while training to compete in boxing. He serves as the manager and employer for one of those young boxers, who is currently ranked No. 5 in the world. A portion of his warehouse facility is used as a gym for training. The guy the kids in the club call "Viejo" – old man in Spanish – has seen national and international champions come from the club.
Brad and an older gentleman who trained him and also maintains top fitness through boxing plan to open a gym in the Santa Ana/Orange area focused on boxing for people of all ages. "It's not about becoming a tough guy or competing," he explains. "Through boxing we teach humility and how to protect yourself and others. It builds speed, endurance, balance and mental toughness."
Brad has had some serious health issues through the years. About 10 months ago he was hospitalized with acute pancreatitis, a potentially life-threatening condition. The experience accelerated what Brad now does to stay healthy, which includes no more wine consumption and addressing pain his knee. "I'm a man of faith who believes God works through us, but we have to do our part," he says.
Following surgery, Brad stayed overnight at the hospital. "It was like staying at the Venetian Resort in Las Vegas," he says. "Every aspect of my care and stay was perfect. During my first night in the hospital, due to an enlarged prostate I must have been up to pee eight times. I told the big orderly who came and helped each time I felt bad about it, but he told me, 'You don't need to apologize; I'm just doing my job.'"
Brad doesn't pull any punches regarding the pain he had in the days following knee surgery. "Along with pancreatitis I've endured kidney stones and have a pretty high threshold for pain. I had to keep telling myself what I tell anyone going through a challenge: 'Just fight one more round.'"
Brad bought an ice therapy machine and took his pain medication conservatively because, "Being a Type A personality, I didn't want to become dependent," he says. "I started home therapy three times a week and did exactly what the therapist said to do. On the other days, I did the exercises, too. If all I could do was 10 reps, that's what I'd do. I think that made a huge difference in my recovery."
Within 10 days, Brad was back in his office, without a cane or walker. Within five weeks he was back in the gym, hitting the heavy punching bag. Seven weeks post-op, Brad is continuing his therapy at a rehab facility and says his knee is strong and he's almost back to doing what he could on a good day before surgery. He's had the support of Sandra and his daughter, who is months away from completing nursing school.
"After walking around on a bad knee for 10 years, my body was so out of whack that it also caused back and hip pain. I'm now having to retrain my mind about how to stand tall and walk normally," he says.
Just weeks after his surgery, a friend of 30 years was in another Southern California hospital having knee surgery. Brad recalls, "He was having a tough time with pain, and I told him, 'You've got to move.' He was there for three or four days before moving to a rehab facility, and he didn't get out of bed. I talked to him nearly every day, and kept urging him to get up and walk, even 10 or 15 feet. Then I got the call that he'd passed away from a pulmonary embolism. I was sick, knowing that this was preventable."
Looking back at his time before knee replacement, Brad realizes that his own quality of life was diminished due to his lack of mobility. Before New Year's last year, his family asked him to join them for an outing to the Rose Parade, but he declined. "They told me it won't be the same without me, but I told them it wouldn't be the same with me. I'd be complaining about getting around and would make everyone miserable."
Less than two months after knee replacement, Brad is already seeing the difference. He shares, "My wife loves tennis, so last week we went to the Paribas Tennis Tournament in Indian Wells. From the parking lot to all of the stadium courts, we must have walked four miles! I had a little pain and stiffness, but nothing like my pain would have been before surgery."
He adds, "People ask me about my knee replacement and I tell them it's like the fire service or anything in life: surround yourself with the best people. My doctor and the HOI staff are definitely the best.
Photograph compliments of Jon Haverstick and Carlos Rivera