Back to Taekwondo
Patient: Rita
Category: Trauma & Fracture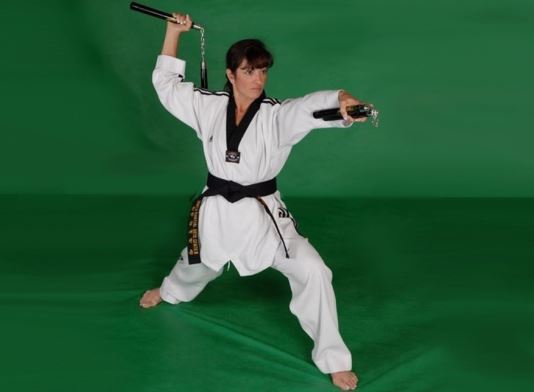 " I have more energy and am so much happier not to wake up every morning groaning in pain."
Rita Grahovec of Yorba Linda signed up for martial arts classes to share something in common with her young son and build his confidence. She found she liked the full-body workouts, self-defense training, and growing circle of friends.
Now age 61, Rita is a 4th degree black belt taekwondo master. After more than 15 years of practice, she hopes to continue her training for the rest of her life. Even a serious knee injury couldn't keep her from returning to the mats.
In August 2015 during taekwondo practice, Rita stepped back and ruptured her anterior cruciate ligament (ACL) after a routine kicking drill. Severe knee pain sent her to a local hospital emergency room, then to her first orthopedic consultation.
"That doctor seemed eager to do surgery right away, but I wasn't comfortable," she recalls. "I saw a second orthopedist, and still wasn't impressed with what I heard. Neither doctor gave me any hope I could get back to doing taekwondo, so I did nothing for a couple of months and took pain pills. It was depressing."
Rita kept busy working and traveling between the Mainland and Hawaii as a systems support manager for an ocean shipping company. Then while out shopping, Rita fell on her injured leg and sustained several more ligament tears.
To walk on her badly swollen and hurting knee, she increased the opiates she was taking for pain. Rita knew that surgery was imminent, and asked a friend from the gym who worked at HOI for a referral to a top orthopedic specialist.
"On my first visit to his office I really connected with him," recalls Rita. "I stressed that I wanted to do martial arts again. He didn't rush to judgment. He wanted to do X-rays and an MRI first to see what condition my knee was in and gave me a different brace for more support.
"Once he had the test results, he surprised me by not recommending ACL reconstruction at that time because my condition was complicated by arthritis. He removed some of the fluid from my injured knee, and recommended a less invasive procedure – an arthroscopy procedure to clean out additional fluids and debris, to bring the rest of the swelling down, relieve the pain and get me off the opiates. I would have some physical therapy, and only do a major ACL surgery as a last resort. I liked that he was forward-thinking and gave me hope I could go back to taekwondo."
Rita recalls how kind, professional and informative everyone was at the surgery center. "I didn't get nearly as much attention from the other hospital's ER staff as I did from everyone in the surgery center. On a scale of one to 10, I give them a 10. They were such caring people. They made me feel warm and fuzzy. I can't say enough about my doctor or his team," she says.
Rita's knee recovery was painful first, but by the fourth week after her procedure, the pain subsided. "It's now been six weeks and I have no pain," she says. "I'm back with my personal trainer as well as a physical therapist, and I'm no longer taking opiates. In another two weeks I plan to start back to taekwondo."
Rita adds, "I have more energy and am so much happier not to wake up every morning groaning in pain. No one should live like that."