Back to Volleyball
Patient: Tucker
Category: Hand & Wrist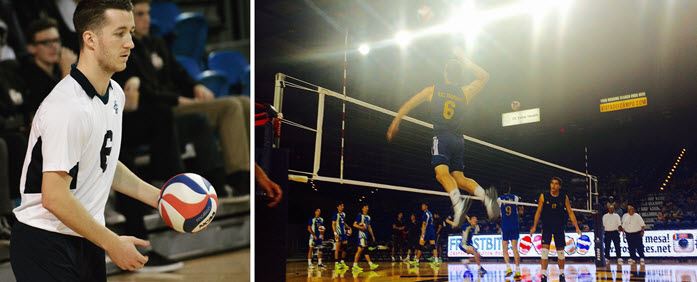 " The first time I met the surgeon I felt a connection with him. He's super cool and because I trusted him I wasn't nervous at all."
Procedure: Fractured Left Index Finger Repair: December 2017
"Coach, I think I broke my finger."
UCI senior athlete Tucker Pikula, 23, was warming up at volleyball practice in a friendly Saturday morning basketball game when a freak accident shattered his plans. His teammate's pass hit him with so much force that his finger fractured into pieces.
"At first, thinking I might have just dislocated it, I tried to shake it off. I've played basketball all my life, and volleyball for the last nine years, and never had a problem. I kept playing for another five minutes but my stomach became very queasy and the pain got worse."
At a nearby urgent care center, Tucker's X-rays confirmed his finger was fractured. He told his coach, who informed the school's athletic trainer. The trainer contacted the UCI team physician and Hoag Orthopedic Institute orthopedist, who contacted a trusted hand specialist. The Hoag Orthopedic Institute specialist promptly met with Tucker, then fast-tracked Tucker's intricate finger surgery. The procedure was scheduled for immediately after his mid-term exams.
"The first time I met the surgeon I felt a connection with him. He's super cool and because I trusted him I wasn't nervous at all. After surgery, he told me that the fragments were extensive. What was supposed to be a 45-minute procedure took twice as long, but it was a good surgery."
Tucker was devastated by the blow to his final college volleyball season that had just begun. He wondered if he would ever be able to play volleyball again. Casted from his fingertip to mid arm, he leaned on strong family, team, medical and therapeutic support systems. Tucker focused on school and plans to travel to Europe and around the US after he graduated.
"During a therapy session, I saw a kid about 18 years old come in who was missing all of his fingers, except for his thumb. That was a turning point for me," says Tucker. "It changed how I felt about my injury; I still have five fingers."
Just six weeks after surgery with his index and middle fingers taped together, Tucker was back on the floor, starting for UCI's volleyball team, then ranked third in the nation. Instead of a hitter he went in as a libero, a defensive position in which he can use his forearms rather than his hands.
Seven weeks later, finger still swollen and not bending due to significant scar tissue, Tucker went back to see his Hoag Orthopedic Institute surgeon. He left feeling encouraged. Tucker reports, "I just found out he can remove the scar tissue and is confident I will get back my full range of motion."