Back to Show Jumping
Patient: Justine
Category: Hand & Wrist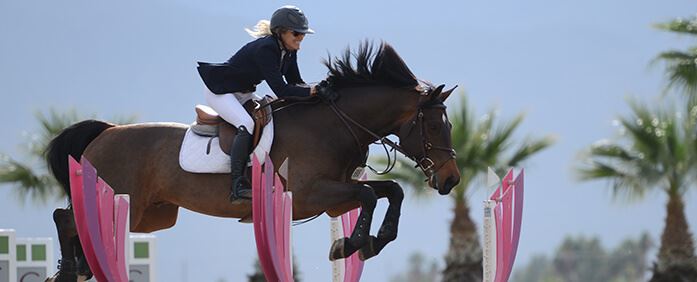 " What a gift to have the absolute best in a group of specialists collaborating on putting me back together."
Procedure: Repair of fractured left wrist
It's been eight months since Justine flew off a horse and landed on her wrist, dislocating it and shattering the bone. She's just returned to competing in the hunter jumper division, confident and able to use the proper hand position to maintain balance and communicate with her horse, Hidalgo.
"My accident was so destructive," says Justine, who along with her horse earned a blue ribbon on their first outing upon returning to competition jumping. "What a gift to have the absolute best in a group of specialists collaborating on putting me back together."
Near the end of a lesson at the Huntington Beach Central Park Equestrian Center in July 2018, Justine took one last jump, fell and landed on her wrist. Her dad was filming the session. Justine didn't want to alarm him, so she shook off the pain and walked out of the arena. Minutes later she dropped to her knees and told him, "I need you to take me to the hospital."
By the time they arrived at the ER, Justine describes her wrist as "so swollen it looked like a turtle." She continues, "X-rays confirmed it was smashed and dislocated. The ER staff numbed it and tried to pop it back into place twice, but it didn't work."
Fortunately, Justine was able to see an orthopedic hand and wrist specialist the very same day, who confirmed the diagnosis and explained that a plate and screws could be inserted to repair her wrist. The next morning, she came back for outpatient surgery.
"I was scared and in so much pain," Justine recalls. "I'll never forget how warm and attentive everyone was, beginning with the front desk. Having them tell me how sorry they were, and asking me if I needed anything was really comforting."
This wasn't Justine's first rodeo. She had broken her right wrist twice before, while in her 30s playing roller hockey. Both times she was treated by an HOI orthopedic specialist and had complete recoveries. Since that doctor wasn't immediately available, this time she was cared for by another HOI upper extremity specialist.
Justine recalls, "That first night was tough. I went home with my wrist casted and elevated with what looked like a giant yellow block of cheese. I woke up in the night and couldn't feel my fingers. I kept worrying, 'Did my surgeon sever a nerve?' In the morning I talked to him and he explained I was probably feeling the effects of numbing medications. Sure enough, my fingers began to tingle and excruciating pain returned."
Her recovery didn't go as smoothly as she'd expected. She knew she needed to begin physical therapy, but her accident couldn't have happened at a worse time, so she postponed it.
Justine is a founder and the chief financial officer for Free Rein Foundation which rescues, rehabilitates and rehomes horses that have been abused or abandoned; and enlists their help in psychotherapy and learning programs. Through sessions in their Huntington Beach pasture, Free Rein counselors and horses benefit people suffering from anxiety, depression, anger management issues, drug addiction, grief and loss, and trauma. Therapy for teens and children addresses issues such as peer pressure, bullying, drugs, gangs, leadership, and self-confidence. To fund this non-profit, Free Rein's major fundraiser was set for next month, and Justine had much to prepare.
"I tried to pretend my injury didn't happened, but I'm pretty sure I overdid it and delayed my recovery," she admits.
As soon as the event was over, Justine scheduled physical therapy, but not with the therapist that her surgeon had recommended. "After a fifth painful session with him, I still had no rotation. On my way home in the car, I balled. I was second guessing whether I'd made the right choice of doctor and called my former HOI physician.
"After I told him my concerns, he recommended I go to the therapist my new surgeon had wanted me to see all along. What an amazing difference! She knew where to hold my arm and put pressure while manipulating it, with virtually no pain. On my way home from a second session with her, my new surgeon called and told me he'd spoken with my former surgeon. I was embarrassed and apologized to him, but he was so sweet and reassured me I had done the right thing, that they were collaborating as a team. 'It's all about you and a second opinion is smart,' he told me. He suggested I have a CT scan to figure out what was going on, but by that time, I was feeling encouraged by my rehabilitation, so I told him, 'Let's wait and see.'
Justine recalls telling her husband, John, she would never ride a horse again, but he recommended against any rash decisions. In the weeks that followed, the depression that had taken hold for the first time in her life lifted. Her concern that she would forever have chronic pain lessened as her wrist grew stronger and her mobility increased. Spending time out in the fresh air with friends and horses at the stable also helped her heal. She decided she might do some riding again. Eventually she and Hidalgo began jumping just a little. As her confidence grew, she set her sights on jumping competitions. Throughout the healing process, she kept telling her wrist she loved it, and that it would be fine.
"Just this week, eight months after my fall, I'm not only preparing to compete with Hidalgo, I also went back to doing yoga, including putting weight on my hands doing downward dog poses. I continue to do some therapy at home, such as picking up buttons and change and playing with play do.
"I no longer feel vulnerable or afraid," shares Justine, who won a blue ribbon with Hidalgo in her first competition since the fall. "Instead, I feel so fortunate to live in what's really a mecca for state-of-the-art orthopedic care – it's something I'll never take for granted!
Photograph compliments of Justine Makoff