Back to Soccer
Patient: Michael
Category: Trauma & Fracture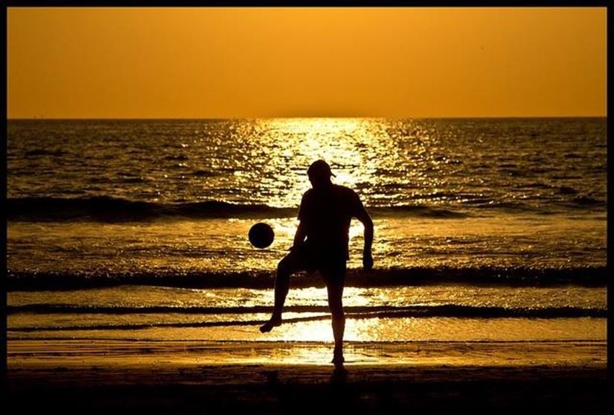 " I felt lucky that everyone was taking such good care of me. They really listened and constantly went our of their way to help me."
Michael Wolitski, 21, has played soccer since he was a 3-year-old and had high aspirations for his soccer career. Then, halfway through his freshman season at Servite High School, the center mid-fielder's goals came crashing down.
On a throw-in to Michael, he maneuvered the ball toward the goalkeeper. His right foot was planted and his cleat gripped the turf when a defender came in and struck Michael's right knee, turning it 90 degrees. He hit the ground, his knee twisted at a strange angle, unable to move for the pain.
An ambulance arrived and took Michael to an area hospital emergency room where he was admitted, medicated to ease the pain, and his leg's damage assessed. His dislocated kneecap was put back in place. He had also sustained four torn or severed ligaments and a fractured femur. Due to nerve damage, Michael had no feeling in his foot.
Michael's injured leg required immediate surgical repair, but the hospital's doctors saw too much damage and declined to operate. Fortunately for Michael, the school's athletic trainer knew and recommended a sports medicine physician and surgeon from HOI.
"The doctor believed I should have had surgery right away so that I wouldn't walk with a limp and drag my foot," recalls Michael. "He didn't want to get my hopes up about a full recovery, and told me I might not be able to play soccer again. My mom and I both left that appointment crying. But I'm glad he was open and honest. I told myself I would find a way."
In surgery two weeks after the accident, the surgeon placed five pins to stabilize the fractured femur; and worked to repair the nerve damage that had caused "drop foot," an inability to lift the foot at the ankle. For the next three months Michael lived in a cast. Two months later, Michael had a second surgery, an arthroscopic procedure to repair torn ligaments and reconnect the severed ligaments using cadaver replacements.
"I wasn't nervous at all," he says about having the outpatient procedure. "I felt lucky that everyone was taking such good care of me. They really listened and constantly went our of their way to help me."
For the rest of that soccer season and the next, Michael watched from the sidelines, in a wheelchair or on crutches. "I had always been strong and healthy, so this was a depressing couple of years for me," he shares. "I had to take baby steps. But at each office visit, we had a little more optimism."
Almost two years and a great deal of therapy later, in his junior year of high school Michael was back on the soccer field, wearing a knee brace. "It was humbling," he admits. "I was a different player and needed to rebuild my strength, agility and stamina. The offers from Division 1 college soccer programs that I had always dreamt about never came."
Michael enrolled at Mt. San Antonio College in Walnut, CA, and found a job working part-time at Target. Not only did he play soccer for Mt. SAC for two years, Michael was named a Scholar All-America for his high grade point average and athletic accomplishments. He is transferring to California State University Fullerton in the spring 2017 semester and hopes to walk on to the Titans soccer team.
"My leg doesn't hurt now, but I recently did a 10-mile run, and it was a little sore," he says.
Michael's new goal is completing CSU Fullerton's athletic training program so he can parlay his love for sports and fitness, as well as the personal insights he's gained in sports psychology, to help other athletes.
"This experience put my parents and me on an emotional roller coaster," says Michael. "You learn not to take life for granted. I've regained my confidence and have a whole new appreciation for my family, caregivers and health."