Back to Providing Physical Therapy
Patient: Jen
Category: Knee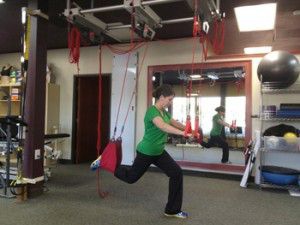 " I have a much greater understanding of what my patients go through."
At a professional conference last year, HOI Physical Therapy Supervisor Jen Brandon, PT, MPT, expected to learn about innovative therapeutic techniques to advance her knowledge for her patients. But after leaving the conference by ambulance, she learned what couldn't be taught in a seminar.
On the walkway outside a San Diego hotel, Jen slipped on a speed bump and fractured her patella. "One minute I'm leaving the acute care lecture on technology, and the next I'm at an emergency room getting an immobilizer and crutches," she recalls. Within the week, Jen underwent an open reduction, internal fixation (ORIF) and retinacular repair at HOI.
"I have almost 20 years of therapy experience, but it's all in acute care, not outpatient PT," says Jen. "I've given the same spiel for years about the impact of anesthesia on endurance and energy conservation, yet I thought I could go back to work administratively two weeks after my surgery. Talk about unrealistic expectations.
"Life after surgery and the recovery process have truly been exhausting. Most therapists by nature are social people, but it is different on the other side of the plinth (physical therapy table). Therapy for me wasn't just physical – it was really my only social outlet, and the only thing that kept me sane and gave me a semblance of normalcy in this sideways universe in which I now existed as a patient," she shares.
Jen spent her first week in a cast before receiving a knee brace. After nine weeks in extension, the knee brace was unlocked. By 12 weeks she managed 90-degree flexion and returned to work on a part time basis, without direct patient care. With continued physical therapy, at five months her knee flexion had increased to a satisfactory 142 degrees, her quads were growing stronger and she was looking forward to returning soon to hands-on patient care.
"Life is a journey, and my orthopedic one continues, and likely will for a while," says Jen. "I appreciate little things that I didn't before, like the ability to get in and out of the car easily or simply standing in the shower. I have a much greater understanding of what my patients go through, and I know I'll be a more empathetic therapist by understanding their journey a bit better."
Jen Brandon, PT, MPT