Back on the Soccer Field
Patient: Amy
Category: Sports Medicine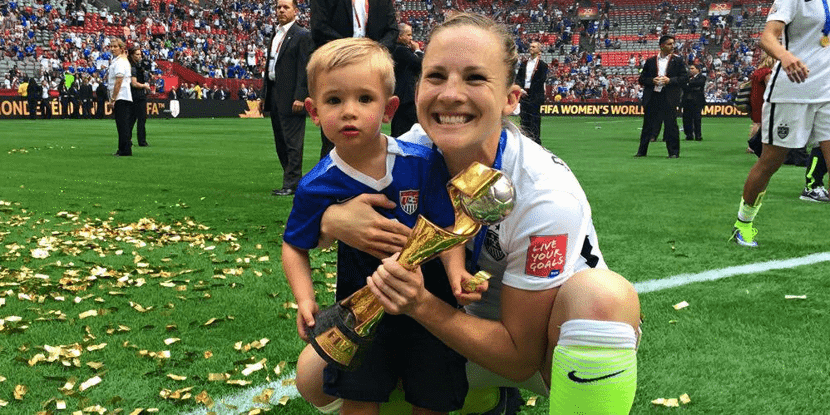 " Recovery and rehab help to restore the confidence in your body and in your mind. Now, months out from my full recovery, I am leading our team in goals and playing with more intensity and competitiveness."
She knew the seriousness of the injury the second she heard the loud, high-pitched "pop" followed by searing pain. Amy Rodriguez, the two-time Olympic gold-medal winning professional soccer player for the Utah Royals in the National Women's Soccer League whose nickname is "A-Rod," was sprinting downfield and had just planted her left leg for a kick. She was a bit off kilter due to a defender's nudge when she felt her knee move awkwardly, tearing her left anterior cruciate ligament (ACL).
"It was dreadful. My knee became unstable. I knew immediately it was my ACL," she recalled.
Amy knew was not alone in her plight. "A lot of my teammates from World Cup and Olympic teams had suffered torn ACLs, and I knew I could come back," she said. Amy also knew a lot about sports injuries and recovery; her husband Adam works as a physical therapist and is a former athlete at USC, where she played championship NCAA collegiate soccer. The former Santa Margarita Catholic High School soccer star had a lot of information to absorb and had to find a surgeon to repair the tear. "I needed to find a surgeon who would give me a chance to get back to what I love – playing professional soccer."
After interviewing several surgeons, she said she chose orthopedic surgeon Dr. Michael Shepard of Hoag Orthopedic Institute because she felt an immediate connection with him. "He's got great hands, is very passionate about what he does and came highly recommended," she added. "He understands how professional athletes click and has a lot of experience in helping elite athletes get back to their sport." Moreover, her husband, the physical therapist, agreed with her selection as well.
Dr. Shepard performed Amy's surgery at Hoag Orthopedic Institute's outpatient surgery center in Orange, using her patella tendon as a graft to repair her ACL. The surgery was performed through a minimally invasive technique to accelerate healing. "As it only traditionally takes about an hour to complete, the surgery is the easy part in recovering from an ACL tear," said Dr. Shepard. "She had a long road of work and recovery ahead of her – at least eight or 10 months of intensive physical therapy to get her ready to play in professional competition."
The Orange County native worked, and then some, say her rehab specialists. "In all my years of doing PT for professional athletes, I can't recall one who had the commitment that Amy did to recover from her injury and surgery," said Joe Donohue, PT, a physical therapist and founder of ProSport Physical Therapy and Sports Performance in Costa Mesa, a strategic partner of Hoag Orthopedic Institute. "She was in every day – five days a week – for months and months to rehabilitate, exercise and strengthen her muscles and restore her function."
There are specific areas to rehabilitate when recovering from an ACL injury besides improving range of motion, says Donohue. "Besides improving strength in your leg muscles, such as the hamstring and quads, we also work on building core strength and overall body fitness. Ideally, we like to challenge the athlete to be in even greater level of fitness than prior to injury. In fact, in Amy's case, she was stronger than ever after we finished with her formal rehabilitation."
After about a year-long break to completely rehabilitate her knee and body, she returned to the Royals on a mission of redemption; she scored the highest grade on her team's fitness test. On the field, she said she was confident in her recovery and had zero trepidation in planting her leg to kick or cut while at full speed. "Recovery and rehab help to restore the confidence in your body and in your mind. I was humbled by this injury and it taught me patience. Come back too soon and you risk further injury. Now, months out from my full recovery, I am leading our team in goals and playing with more intensity and competitiveness."
"A-Rod is a shining example of how a professional athlete approaches and recovers from a serious knee injury," added Dr. Shepard. "She is an inspiration to many of my patients and I am sure to her fans, family and friends as well."
Doctors have long been puzzled about how common ACL injuries occur in women athletes, especially soccer players like Amy. Numerous research and studies have suggested that women are indeed more susceptible to ACL injuries; shockingly, women are about four to five times more likely to tear this ligament than men. The ACL is located deep in the middle of the knee joint, and with other ligaments, connects the thighbone (femur) to the shinbone (tibia). The ACL is typically injured when a player makes a cut, jumps or is hit off balance by an opposing player, which causes the knee to rotate excessively. Why are women more afflicted with ACL injuries? Doctors say it is because of structural and neuromuscular differences, among other indicators.