Back to Tandem Recumbent Cycling
Patient: Chung-Li Ling
Category: Knee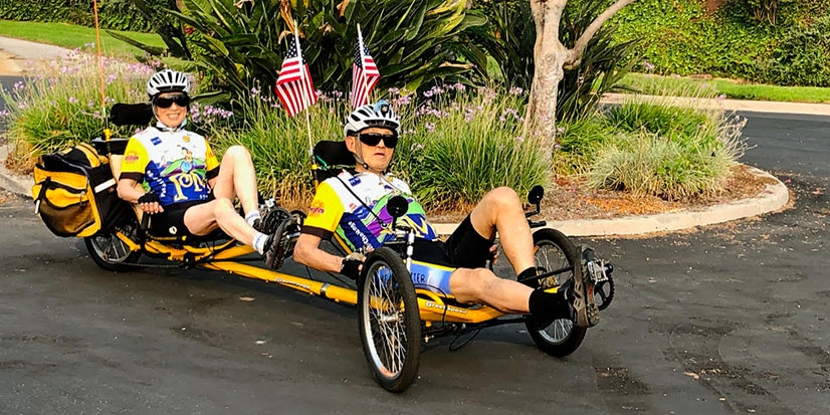 " Everyone at HOI, from the nurses to cleaning staff, and Dr. Barnett were very caring, they really are," Ling said. "I've seen other doctors who couldn't wait to get you out of their room but not Dr. Barnett or the HOI team, and I really appreciate them for their genuine TLC."
Chung-Li Ling has always led an active lifestyle, from skiing to playing catcher in recreational league baseball. He first injured his left knee while skiing during college in the 1960s, and went through a long surgery and recovery.
"At the time, there was no physical therapy and I was hospitalized for a week afterwards before they would let me walk," Ling shared.
Luckily, Ling's knee recovered after some time and he was able to resume his activities. He said he did not feel pain except an "occasional sharp jabbing pain" when he stepped the wrong way with his left leg.
In the 1980s, Ling took up bike riding and started participating in the two-day Pan-Massachusetts Challenge (which raises money for cancer research) with his 17-year-old son, who survived lymphoma.
"I did the challenge ride with my son for 17 years and I really think cycling helped strengthen my leg muscles."
After relocating to California in 2007, Chung-Li Ling stayed active and continued riding more leisurely. But in 2018, he fell two days in a row caused by "sudden, unbearable pain" in his left knee when he stepped wrong.
"Thankfully, I didn't break any bones during either fall, but it was enough to bring it up to my doctor during my annual physical," Ling shared.
His primary care doctor mentioned that he would probably need a knee replacement, and mentioned two orthopedic surgeons for him to consider. During a meeting with his "band of brothers" one Monday for breakfast, Ling asked his friends about who they would recommend for knee replacement surgery, and one mentioned having a great experience with Dr. Steven Barnett at Hoag Orthopedic Institute.
"Since my friend gave Dr. Barnett an A+ rating, I decided to join the crowd and get a new knee too," Ling laughed.
Ling underwent knee replacement surgery in late 2019 at age 85, with Dr. Barnett at Hoag Orthopedic Institute in Irvine, and said that he was pleasantly shocked to learn he would be going home the day after his surgery, a stark difference from the week-long stay after the operation on his same knee during college.
"After surgery I didn't feel any pain at all, I followed doctor's orders and did physical therapy regularly," Ling shared
Just a few short months later, Ling was back riding his tandem recumbent bike with his wife and walking. He shared that his left knee is "like new!"
"Everyone at HOI, from the nurses to cleaning staff, and Dr. Barnett were very caring, they really are," Ling said. "I've seen other doctors who couldn't wait to get you out of their room but not Dr. Barnett or the HOI team, and I really appreciate them for their genuine TLC."