Back to Mountain Biking
Patient: Kathy M
Category: Spine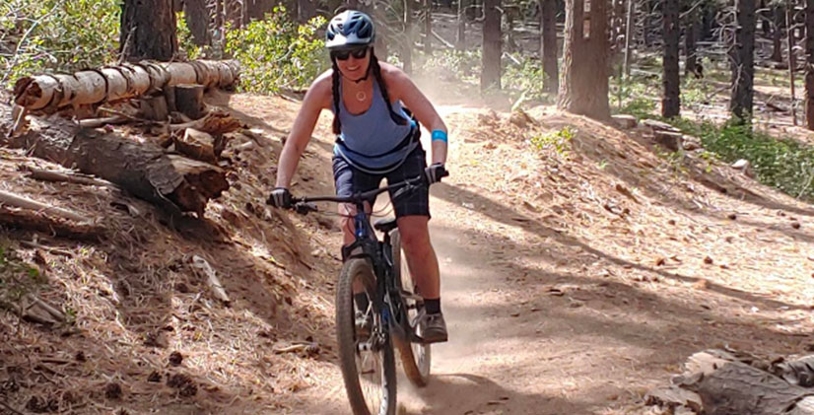 " The staff at HOI just make you feel so comfortable," Kathy shared. "You feel really vulnerable after surgery and they were all just wonderful people who really cared."
If you're a mountain biker riding at Santiago Oaks or Aliso and Woods Canyon in California, chances are you might have bumped into Kathy McNeill on one of the trails. The avid weekend warrior calls mountain biking her "happy place" and a wonderful escape from managing her own digital marketing business that would keep her in front of a computer screen for hours. This is true now more than ever after undergoing spinal fusion in late 2019.
Although Kathy had experienced minor back aches through the years due to her active lifestyle, her back pain took a sudden turn for the worse in 2017 when gardening on her slope.
"I felt strain but thought 'Oh I'll just be sore tomorrow,'" Kathy shared. "I had no idea the turn it would take."
After a few months of conservative treatments including chiropractic care, acupuncture and an epidural, Kathy ultimately elected to undergo a minimally invasive discectomy at another facility.
"It was successful by all accounts, but the doctor did warn me there is a possibility of defragmentation occurring," Kathy shared.
Less than 2 years later, Kathy moved to Bend, OR to enjoy more outdoor trails and mountain air but unfortunately, her back pain returned and progressed to sciatic nerve pain which radiated down to her foot on her right side. Her only way to alleviate the pain was to lay down – not in line with her active lifestyle.
Kathy opted to stay local and try another discectomy, but within a few days afterwards, knew something was very wrong. After the pain returned and she noticed discoloration in her right foot, Kathy was admitted to the hospital to repair the disc fragments that had broken loose and were pushing on her nerve. But that repair also did not hold, so Kathy resolved to seek care from experts she knew well back in California at Hoag Orthopedic Institute.
"I'd worked as a digital marketing consultant on a contract with HOI for several years, so I was familiar with the outcomes HOI reported and knew how highly they were ranked," Kathy shared. "I did my research on spine surgeon outcomes thoroughly and also came across an article about a doctor who had performed a very complex spine surgery on a patient with great results, and knew that's who I would want to do my last surgery."
Kathy was adamant about not wanting to undergo a 5th back surgery, so after a phone consultation with Dr. Richard Lee at Hoag Orthopedic Institute, she agreed that a spinal fusion was her best option to regain structural integrity of her spine and get back to her activities.
"Dr. Lee suggested an anterior approach, due to my surgical history. This procedure would require a vascular specialist to assist with the surgery, so I felt confident that Hoag Orthopedic Institute had the right team to do this procedure." Kathy added.  
After undergoing a complex spinal fusion surgery in late October 2019 with Dr. Richard Lee at HOI, Kathy said she felt better immediately following surgery. She did have nerve pain return within a week, but was told it was normal due to the amount of scar tissue that had to be removed from her previous surgeries. After working with a pain management specialist at HOI, Dr. Kimberly Safman, to get her pain under control quickly, Kathy was able to return to her home in Bend, OR. There, she worked with a physical therapist to assist with her core strength and correct positioning during daily activities (such as holding the grocery cart closer to her body to prevent back strain) and after several months, Kathy was able to gradually get off the nerve pain medication.
"The staff at HOI just make you feel so comfortable," Kathy shared. "You feel really vulnerable after surgery and they were all just wonderful people who really cared."
Now, a year after her spinal fusion with Dr. Lee, Kathy is easing back into mountain bike riding in Oregon. She emphasized that she worked with her physical therapist to have her bike fitted properly to account for her spinal surgeries to ensure that the ergonomics were optimal as she continues to fully recover from her major surgery.
"I definitely had a lot of faith in Dr. Lee's capabilities and if anyone is capable of performing this complex procedure and preventing me from having to get another surgery, it's him and the staff at HOI," shared Kathy.