Back to Golfing and Seeing the World
Patient: Ashok Patel
Category: Knee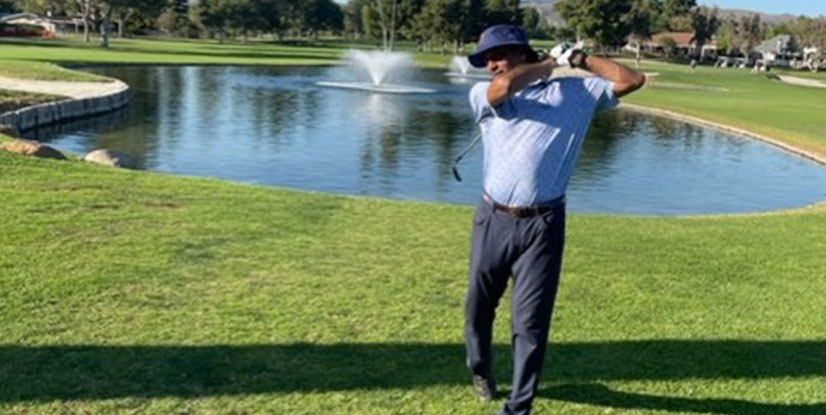 " I feel fantastic. I am already able to climb steps two at a time, sit cross-legged and I have been back golfing for a month already and can walk the entire course, which I could not do before."
Ashok Patel has always led an incredibly active lifestyle. The Fullerton, Calif. resident is an avid golfer, traveler and previously climbed Mounts Kilimanjaro, Whitney and more.
When his knee started hurting about two years ago, he didn't want to waste time being down, so he sought advice from friends who had orthopedic experience.
"One of my friends at Yorba Linda Country Club recommended Dr. Jay Patel [no relation] and I was immediately struck by his efficient and professional manner," Ashok said. "Some doctors offer their patients band aids but I've always felt that the earlier you take care of things, the better life you'll lead, so I decided to move forward with a total knee replacement."
Prior to his total knee replacement surgery at Hoag Orthopedic Institute in late 2021, Ashok participated in a pre-op exercise program where he did simple exercises at home to build his quads and hamstrings.
"The surgery was smooth as silk," Ashok shared. "The staff was excellent, professional, and the food was excellent, which was surprising for a hospital. I think my pain was minimal because of the pre-op exercise program."
Three days post-surgery, Ashok started at-home physical therapy (PT) and progressed to outpatient PT.
"I feel fantastic," Ashok shared. "I am already able to climb steps two at a time, sit cross-legged and I have been back golfing for a month already and can walk the entire course, which I could not do before."
Ashok feels strongly that his adherence to the pre-op exercises and diligently following his doctors' orders have hastened his healing process.
"You get what you put into things and I am doing everything I want and walking at a fast pace," he shared.
Next up for Ashok? More international travel and hopes to get back on the tennis courts as well.
"My advice is 'Don't kick the can down the road,' just recognize you have a problem and fix it," Ashok said. "If you are going into a big surgery be prepared, do the work and stay the course and do all the exercises. Then go to HOI and walk away like you never had any pain.