Back to Biking and Active Living
Patient: Jan F
Category: Hip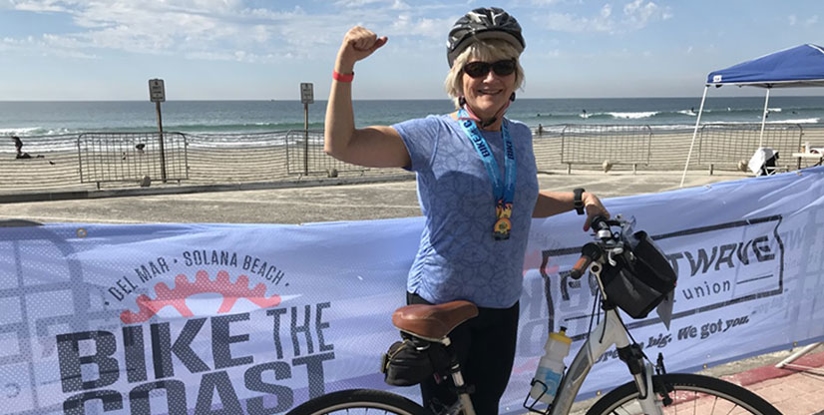 " I love this hospital and Dr. Caillouette, both outstanding," Jan shared. "My biggest advice is to listen to your body and if you think something is wrong, don't wait, because the earlier it gets treated, the better you'll feel."
Jan Fluchere has always been incredibly active, between cycling indoors, riding bikes outside, attending Barre class and strength training. After seeking care with her back doctor in 2018, she decided to see him once again in 2019 when her pain became too much.
"After looking at the X ray, my doctor told me that I probably needed a hip replacement when I thought it was my back," shared Jan.
After speaking with friends, Jan decided to see Dr. James Caillouette, orthopedic surgeon and hip and knee specialist at Hoag Orthopedic Institute.
"[Dr. Caillouette's] first words to me were "ouch" after looking at my x-rays," Jan said. "He told my husband and I about surgery and I said, 'Let's do it.' I'd heard that he is the best hip surgeon and he really is."
After hip replacement surgery in March 2019, Jan saw her acupuncturist and physical therapist who did water therapy with her two days a week for 3 months. By August, she was ready to join her husband for the Bike the Bay ride over Coronado Bridge in San Diego – a 27-mile ride.
"At the top of the bridge I yelled 'Thank you for my new hip Dr. Caillouette!'" Jan said, laughing.
Even amidst the pandemic, Jan has been keeping busy with outdoor Barre workouts and spin classes with her local San Clemente studio, and even dead lifted 130 pounds recently.
"I love this hospital and Dr. Caillouette, both outstanding," Jan shared. "My biggest advice is to listen to your body and if you think something is wrong, don't wait, because the earlier it gets treated, the better you'll feel."