Back to Beach Volleyball
Patient: Greg Darm
Category: Spine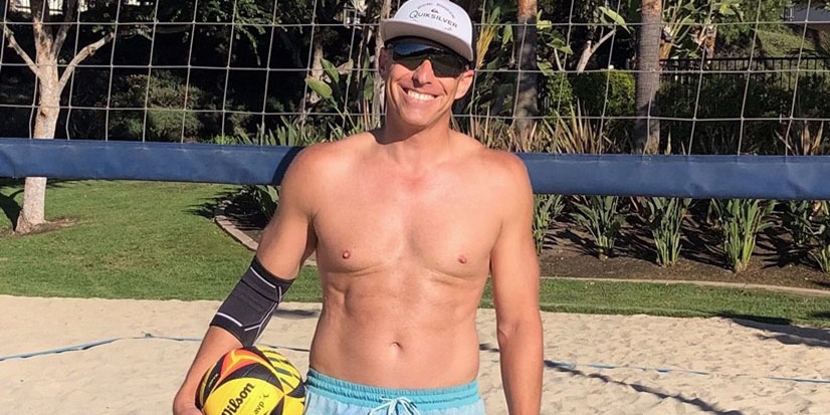 " Hoag Orthopedic Institute was just so awesome, I really appreciated how everyone checked on me and made me feel at ease, and the nice touches with the 'We hope you're back to playing volleyball' note on the patient board."
Greg Darm has experienced back pain for most of his life, but as an active athlete, would push through and recuperate with the assistance of physical therapy. In September 2019, Greg injured his back during a beach volleyball tournament, and knew this time was different.
"The recovery process felt a lot slower, but I kept pushing through to work on my goal of making a Newport Beach team that had won the 45+ and 50+ indoor volleyball national championships and won a silver in the 50+ world championships in Portugal," said Greg.
As Greg worked hard at volleyball training through early 2020 and made the team, COVID hit, which forced Greg to work from home at his desk instead of his usual travel.
"I was at my desk for eight hours a day instead of moving around and meeting with people when my back started killing me," he said.
A visit to Greg's primary care doctor and an X-ray showed that he had an undiagnosed spondylolisthesis – or displacement of a vertebrae – from a college basketball injury that never healed properly. So, Greg sought treatment from an orthopedic spine surgeon.
After meeting with another doctor, then asking close friends for recommendations, Greg was referred by a retired orthopedic surgeon to Jeffrey Deckey, M.D. with Hoag Orthopedic Institute in Irvine. After trying numerous non-surgical treatment options and having little success, Greg decided he was mentally and emotionally ready for a spinal fusion.
"I did a lot of research beforehand on spinal fusion recovery and saw that I should be building up my quad strength to help with recovery after surgery so I started doing lunges and leg workouts which prepared my body," Greg said.
In December 2020, Greg underwent spinal fusion for his L2-L3 vertebrae.
"Hoag Orthopedic Institute was just so awesome, I really appreciated how everyone checked on me and made me feel at ease, and the nice touches with the 'We hope you're back to playing volleyball' note on the patient board," Greg said. "It was a big surgery but I felt so calm about it and worked hard on my recovery."
After surgery, Greg said he was diligent with doing everything Dr. Deckey and his physical therapist instructed him to do in order to recover.
"I did what I was told to do, no more, no less," Greg stated. "It was tough on those days that I didn't want to walk or do my exercises, but I knew I had to do them in order to achieve my goals."
Now six months out from his surgery, Greg recently played beach volleyball for the first time with his friends and celebrated his daughters' graduating high school and college.
"I had two goals that kept me motivated: to play beach volleyball again and be ready to play indoor volleyball again for the national and world championships in 2022," he said. "Now I'm sore, but I'm not in pain anymore, and step 1 is accomplished so I am happy about that," Greg said.
Follow Greg's journey after spine surgery on YouTube here https://youtu.be/ysfDZ2ZfVyw and what to expect during recovery here https://youtu.be/cganBMyxCcI.