Study Finds Specialty Orthopedic Hospitals Have Lower Infection Rates Than Other Hospitals
By Jay Patel, M.D., Chief Strategy Officer, Hoag Orthopedic Hospital
No one wants to go into a hospital for an elective orthopedic surgery and get an infection you didn't have when you checked in. Doctors, nurses and the surgical teams who care for orthopedic patients do all they can to make sure that doesn't happen. In the United States, about 1.6 percent of all orthopedic surgeries result in what is referred to as a surgical site infection.
Thousands of patients each year suffer from surgical site infections that may cause a host of serious complications, including rehospitalization, another surgery and even death.
A new study has found that orthopedic specialty hospitals, like Hoag Orthopedic Institute (HOI), are associated with lower rates of surgical site infections when compared to tertiary care institutions, which are typically academic hospitals. An orthopedic specialty hospital, such as HOI, focuses only on treating patients with musculoskeletal conditions.
Rothman Orthopedic Institute at Thomas Jefferson University analyzed data of more than 20,000 patients who underwent orthopedic surgery at a tertiary hospital and more than 7,000 patients who underwent surgery at a specialty hospital. According to the study, the procedures included total hip replacement, shoulder surgery as well as spine surgery. The primary outcome measurement was the development of deep surgical site infection within one year of the procedure.
The study found that surgical site infections were found in 0.6 percent of patients who underwent surgery at a tertiary hospital and 0.2 percent in patients who underwent surgery at an orthopedic specialty hospital.
This study underscores why it is so important for patients to do some homework about the hospital or facility that their orthopedic surgeon selects for their surgery. Infection control measures at Hoag Orthopedic Institute are robust and meaningful and the process of ensuring better outcomes and reducing infection risk begins way before your surgery, including immunizations, vigorous testing and at-home measures.
Between each surgery, HOI uses a robot to eliminate germs in the operating room among a host of other additional infection control measures. During the recent COVID pandemic, we have added additional testing and use other even more stringent procedures to ensure patients and hospital staff are COVID-free before and after surgery.
This infection control protocol system devised by HOI is so effective at the elimination of potential infections, especially COVID, that it has been shared with and adopted by other hospitals around the state.
You can find out about our infection control processes in our HOI outcomes book we publish each year and is readily available on our web site for all to see. It's at www.hoioutcomes.com
About Dr. Jay Patel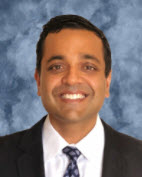 Dr. Jay Patel is Chief Strategy Officer at Hoag Orthopedic Institute. He is a board-certified orthopedic surgeon specializing in adult reconstruction surgery, particularly of the hip and knee. He received his undergraduate degree from Harvard University and his Master's degree in Mechanical Engineering and M.D. degree from Stanford University.