Baseball Hall of Famer Johnny Bench to Join Dr. Alan Beyer on Weekly Angels Radio Show
Category: Blog
Posted On:
Dr. Beyer and Johnny Bench Talk Sports and Health on Angels Radio KLAA AM830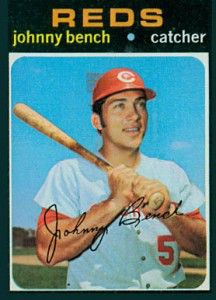 Major League Baseball Hall of Famer Johnny Bench, will join Dr. Alan Beyer, executive medical director at Hoag Orthopedic Institute, on his weekly radio show, Doctor in the Dugout, on KLAA Angels Radio AM 830 on Saturday, September 27, at 4 p.m. The two will discuss a wide variety of sports and health-related topics.
Bench, who began playing major league baseball for the Cincinnati Cubs in 1968, holds titles such as National Rookie of the Year, two-time National League Most Valuable Player and World Series Most Valuable Player, was a 14-time All-Star and has 10 Gold Glove awards. The baseball celebrity now utilizes his status to aid causes such as the American Heart Association, the American Cancer Society, the Johnny Bench Scholarship fund and more.
In addition to Bench, future guests include an array of physicians, baseball players and celebrities including Doug DeCince, an All Star and Third Baseman who played for the Baltimore Orioles and Los Angeles Angels; Hank Azaria, a movie and television personality who is the voice of multiple characters on The Simpsons and starred in Birdcage with Robin Williams and Tuesdays with Morrie with Jack Lemmon; Scott Forman, M.D., an expert on the topic of Platelet Rich Plasma and Stem Cell Injection Therapy; and Teresa Dinh, director of the Orange County branch of the Arthritis Foundation.

Doctor in the Dugout is a 30 minute radio show that airs on Saturdays prior to the start of the Angels' Pre-Game show. Featuring Dr. Beyer's distinctive wit, Doctor in the Dugout provides an entertaining twist on sports medicine-related topics, current injury reports and will feature special guests and other surprises. In addition to baseball news, the program covers a variety of current events in the world of sports and sports medicine.
For more information on where and when to tune into the Doctor in the Dugout radio show, visit: www.am830klaa.com/.
To check out past Angels Radio shows with Dr. Beyer, check out the Doctor in the Dugout podcast page here: https://soundcloud.com/doctor-in-the-dugout.