Hoag Orthopedic Institute recognized as top performer in treatment of fragility fractures and bone health care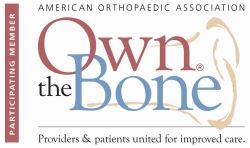 American Orthopaedic Association Gives Institute 'Own the Bone' Star Performer Designation
IRVINE, Calif. [October 29, 2015] – Hoag Orthopedic Institute, one of the largest volume providers of orthopedic care in the nation, recently received an 'Own the Bone' Star Performer designation from the American Orthopaedic Association for performing the highest level of fragility fracture and bone health care for its patients.
HOI earned the accolade by taking specific steps to ensure its fracture patients who are suffering from a condition called osteoporosis, which causes weak and brittle bones, are identified, evaluated and treated effectively. An estimated 10 million adults in the US have osteoporosis and an additional 43 million have low bone mass, most will go undiagnosed and untreated.
"'Own the Bone' has been an enormous success here at Hoag Orthopedic Institute," said Marisa Swain, a clinical nurse specialist responsible for overseeing the program at HOI. "We are passionate about better serving our patients, and those suffering with fragility fractures have seen a real benefit through this."
HOI is one of more than 180 health care institutions nationwide that have joined Own the Bone to ensure their osteoporotic fracture patients receive the treatment and care they deserve. Own the Bone Star Performers like HOI are evaluated on several benchmarks, including: educating patients on the importance of Calcium and Vitamin D, physical activity, falls prevention, limiting alcohol intake and quitting smoking; recommending and initiating bone mineral density testing; discussing pharmacotherapy and treatment (when applicable); and providing written communication to the patient and their physician regarding specific risk factors and treatment recommendations.
Additionally, Star Performers must demonstrate a commitment to helping patients understand their risk for future fractures and the steps they can take to prevent them.
What can people do to protect their bones?
Get adequate calcium and vitamin D, either through diet or supplements, if necessary.
Engage in regular weight-bearing and muscle strengthening exercises.
Avoid smoking and limit alcohol to 2-3 drinks per day.
Have you or a loved one had a broken bone over age 50? Talk to your health care provider and get a bone density screening to determine if osteoporosis might be the cause and learn additional steps you might need to take to prevent future fractures.
For more information about HOI, visit: http://orthopedichospital.com.
About Hoag Orthopedic Institute
HOI (HOI) is located in Orange County, California. It consists of a 70-bed hospital located in Irvine and two ambulatory surgery centers: Orthopedic Surgery Center of Orange County in Newport Beach and Main Street Specialty Surgery Center in Orange. HOI has more than 300 physicians on staff, including over 80 orthopedic specialists. Achievements in patient safety and satisfaction, and growth initiatives have propelled HOI to become the highest volume provider of joint replacements in California. The physicians collaborate on more than 10,000 orthopedic procedures annually. HOI ranks in the 98th percentile for willingness to recommend the hospital and in the 97th percentile for overall hospital rating according to the Hospital Consumer Assessment of Healthcare Providers and Systems (HCAHPS). HOI focuses in the treatments of the knee, hip and spine disorders, and takes pride in specialty care related to sports medicine, orthopedic trauma and extremities care. Since opening in 2010, HOI's hospital has been named by U.S. News & World Report and Becker's Orthopedic, Spine & Pain Management Review as one of the top orthopedic hospitals in the nation. For more information, visit: www.orthopedichospital.com.