Hoag Orthopedic Institute Receives 2015 Press Ganey Pinnacle of Excellence Award and 2015 Press Ganey Guardian of Excellence Award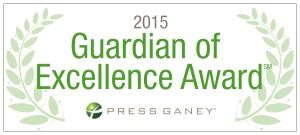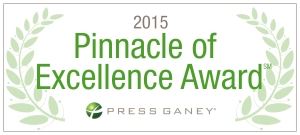 Hospital Awarded for Achieving and Sustaining Excellence in Patient Experience and For Outstanding Performance in Patient Experience


IRVINE, Calif. [December 2, 2015] – Hoag Orthopedic Institute (HOI), one of the largest volume providers of orthopedic care in the nation, recently received a 2015 Pinnacle of Excellence Award® and a 2015 Guardian of Excellence Award® from Press Ganey Associates, Inc., a national provider of patient experience measurement.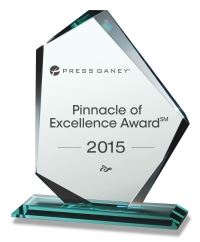 The Press Ganey Pinnacle of Excellence Award recognizes top-performing health care organizations nationwide on the basis of extraordinary achievement and consistently high levels of excellence for three years in patient experience. HOI earned the Guardian of Excellence Award for maintaining a high level of excellence in the area of Patient Experience. The award criteria was maintaining the 95th percentile or higher in overall rating by inpatients who discharged between May 2014 and April 2015.
"We are honored to receive these two, distinguished awards from Press Ganey," said Dereesa Reid, CEO of Hoag Orthopedic Institute. "They are another affirmation that the most important thing, patient satisfaction and the quality of care they receive, is of upmost importance at HOI."
HOI was awarded the Pinnacle of Excellenc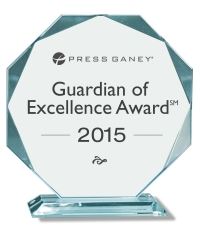 e Award to recognize its extraordinary achievement as a top performing organization in Patient Experience over a three year period (May 2012-April 2015). The Press Ganey Guardian of Excellence Award is a nationally-recognized symbol of achievement in health care. Presented annually, the award honors clients who consistently sustained performance in the top 5% of all Press Ganey clients for each reporting period during the course of one year.
"We are proud to partner with Hoag Orthopedic Institute," said Patrick T. Ryan, CEO of Press Ganey. "This award is a testament of their determination to reduce patient suffering and deliver more patient-centered care. HOI is transforming the industry standard with their continued focus on providing high-quality care in Orange County."
See recent coverage of the announcement here
About Hoag Orthopedic Institute
Hoag Orthopedic Institute (HOI) is located in Orange County, California. It consists of a 70-bed hospital located in Irvine and two ambulatory surgery centers: Orthopedic Surgery Center of Orange County in Newport Beach and Main Street Specialty Surgery Center in Orange. HOI has more than 300 physicians on staff, including over 80 orthopedic specialists. Achievements in patient safety and satisfaction, and growth initiatives have propelled HOI to become the highest volume provider of joint replacements in California. The physicians collaborate on more than 10,000 orthopedic procedures annually. HOI ranks in the 98th percentile for willingness to recommend the hospital and in the 97th percentile for overall hospital rating according to the Hospital Consumer Assessment of Healthcare Providers and Systems (HCAHPS). HOI focuses in the treatments of the knee, hip and spine disorders, and takes pride in specialty care related to sports medicine, orthopedic trauma and extremities care. Since opening in 2010, HOI's hospital has been named by U.S. News & World Report and Becker's Orthopedic, Spine & Pain Management Review as one of the top orthopedic hospitals in the nation. For more information, visit: www.orthopedichospital.com.
About Press Ganey
Press Ganey Holdings (NYSE: PGND) is a leading provider of patient experience measurement, performance analytics and strategic advisory solutions for health care organizations across the continuum of care. Celebrating 30 years of experience, Press Ganey is recognized as a pioneer and thought leader in patient experience measurement and performance improvement solutions. Our mission is to help health care organizations reduce patient suffering and improve clinical quality, safety and the patient experience. As of January 1, 2015, we served more than 22,000 health care facilities. For more information, visit www.pressganey.com.