Back to Wearing Heels
Patient: Alyssa
Category: Minimally Invasive Bunion Surgery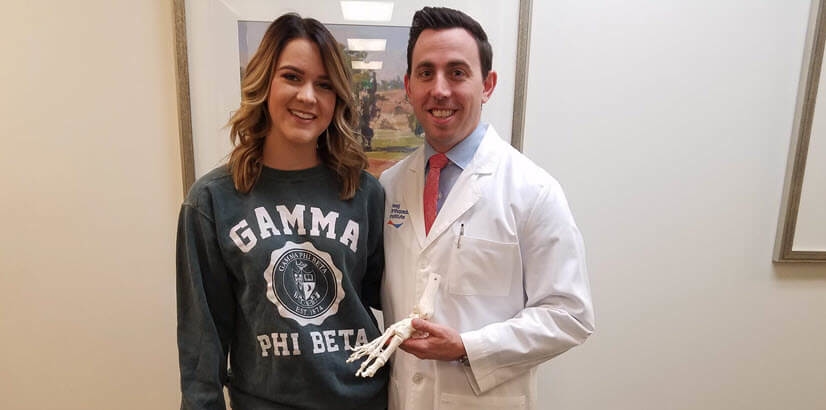 " After surgery, I don't have to think twice about what shoes I can wear. My quality of life is better than before I ever had a bunion because at the end of the day, my feet are not hurting."
Procedure: Minimally Invasive Bunion Surgery
Beginning at age 16, Alyssa Zimmerman began experiencing pain in her feet caused by bunions.
"From age 16 to 19 I was playing soccer and my feet began hurting from bunions, then it just reached the point where it was really affecting my quality of life," Zimmerman explained.
When she began a hostess job at age 23 wearing heels all day, she began experiencing excruciating foot pain, to the point she felt she might need surgery.
"My mom just had foot surgery a few months prior so I consulted with her about who I should see and she recommended Dr. Jonathan Kaplan with Hoag Orthopedic Institute," Zimmerman said.
After a thorough exam with Dr. Kaplan, Zimmerman said that he gave her some good news, that she was a candidate for minimally invasive bunion surgery. Dr. Kaplan is one of only a handful of surgeons trained in the United States to use this FDA-approved, groundbreaking technology for minimally invasive bunion surgery. He also serves as an instructor across the country teaching this innovative technique to his professional colleagues.
"Dr. Kaplan explained that it was worth trying minimally invasive bunion surgery where I'd be back on my feet at four to six weeks post-surgery with just four to five tiny incisions instead of the big scar," she added. "I agreed and couldn't believe that I was up and walking [in a surgical shoe] right away and by eight weeks, I was wearing comfortable shoes with less pain than before I had bunions."
Just a few short months after her minimally invasive bunion surgery, Zimmerman shared gleefully that her recovery has been even better than she expected.
"I don't have to think twice about what shoes I can wear," Zimmerman shared. "My quality of life is better than before I ever had a bunion because at the end of the day, my feet are not hurting."
Zimmerman is grateful to Dr. Kaplan for his care and the surgical outcome. "Dr. Kaplan is a personable doctor who understands his patients and was able to communicate what would happen in easy-to-understand terms, which was great," she added. "He explained everything he was doing so I was able to feel comfortable and confident in what he was doing."
She added, "There's a misconception that you need to be older to have bunion surgery but it was worth it for me, to have minimally invasive surgery at 24 because I couldn't wear half the shoes in my closet," she added. "I had to really think about what I would be doing that day and shoes would hurt going on my foot. Now I have a better quality of life and don't have to worry about my feet hurting."