Back to Power Walking
Patient: Scot L
Category: Shoulder and Elbow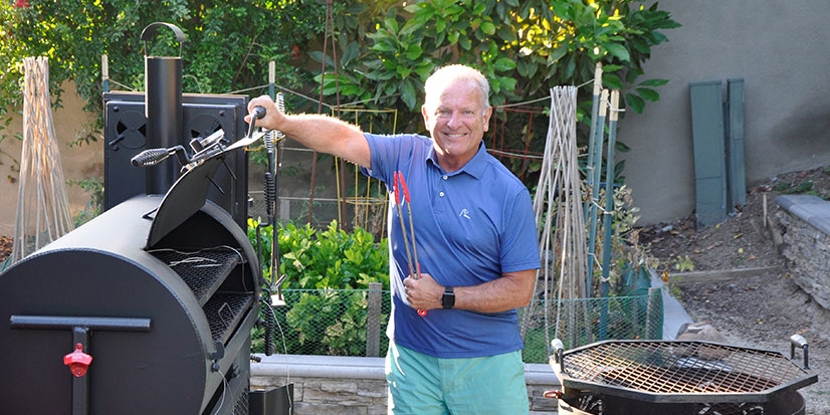 " I feel seriously blessed to have no pain, the best surgeon, best physical therapists, and best care. I've been in a lot of hospitals for a lot of different procedures throughout the years and the Hoag Orthopedic staff is so good at what they do."
Scot Lengel is no stranger to orthopedic care and surgery due to his active lifestyle of running, hiking and competitive-shooting to name a few. He underwent a knee replacement in Boston in 2003 and years later had a knee replacement revision at Hoag Orthopedic Institute in 2019. But through it all, the 64-year old's shoulder pain has always been present.
"You know when you've had a cold for so long that you forget how it feels to be normal? That is how I'd describe my shoulder pain," Scot shared. "I couldn't remember a time when I could lift my arms above my shoulders."
After a successful knee replacement revision by HOI's Dr. Nader Nassif last year, Scot decided to seek care from fellow practitioner Dr. Dave Shukla, orthopedic surgeon who specializes in shoulder care.
"I just couldn't take the pain anymore," Scot shared. "I am an active homeowner too and it was hard to even reach for tools on the shelf or to make repairs myself."
So, in January 2020, Scot underwent a left shoulder replacement with Dr. Shukla, hoping to gain increased range of motion. The surgery was involved due to the amount of arthritis in his shoulder. Scot said that he was prepared for the pain after surgery but to his surprise, he had no pain and didn't need any prescription pain medication after surgery.
"I've had 30 years of bad movement in both shoulders and now my left arm has such a great range of motion that I need to get my right shoulder done," shared Scot, who plans to have right shoulder replacement surgery within the year.
"I said to the doctor, 'Are you that good or am I that lucky?'" laughed Scot. "I am so impressed that Dr. Shukla adapted to my condition and was careful and conscious to give me the best outcome for my shoulder despite the poor condition it was in."
Now several months out, Scot has been able to quickly return to activities he loves, including cooking outdoors and power walking 4-5 miles in the Tustin foothills every day. He also credits his diligence to physical-therapy and following doctor's orders after surgery to his smooth recovery.
"I feel seriously blessed to have no pain, the best surgeon, best physical therapists, and best care," Scot added. "I've been in a lot of hospitals for a lot of different procedures throughout the years and the Hoag Orthopedic staff is so good at what they do."