Back to Playing Baseball
Patient: Garrett
Category: Hand & Wrist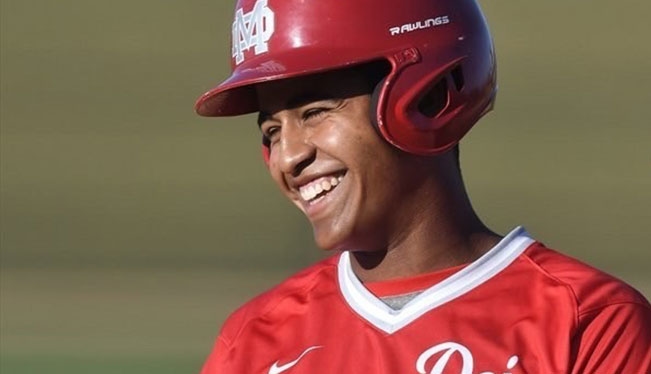 " "I'm so grateful for all the care I received at Hoag Orthopedic Institute, with Dr. Desai, the nurses, anesthesiologists, everyone," Garrett Riley said. "They made the experience so easy and quick, and now I'm already back pitching like nothing happened.""
Balancing both varsity baseball and football up until his senior year at Mater Dei High School, Garrett Riley is used to working through minor aches and pains. But when the varsity baseball player felt his hand swell after a foul ball pitch grazed his hand during a game in Fall 2019, he and his family decided to seek care with the experts at Hoag Orthopedic Institute.
"I told my Mom right after the game that I was feeling a lot of discomfort in my hand, and she searched online and found Dr. Desai, who we saw immediately," Riley shared.
His physical exam and CT scan proved that Garrett had a small fracture in the hook of hamate bone in his hand.
"Thankfully it wasn't a big injury that would take me out of sports for the season, but when COVID hit, we decided to do surgery sooner so I would have more recovery time before college starts," Riley shared.
One week after undergoing the outpatient procedure with Dr. Shaunak (Shawn) Desai, orthopedic hand surgeon, to remove the bone fragment, Garrett said he eased into at-home care including massage on the scar tissue and using a grip and stretch resistance band for his hand and fingers, which was recommended by a friend and former teammate who experienced the same condition.
"When I shared what happened with my friend, he said that he also saw Dr. Desai for the same procedure and got back to baseball right away too," Riley added. "I am very fortunate to have a great support system with my Mom and Dad, my coach, teammates and friends who I could talk to about this and help me through it."
Now a month after his hand procedure, Riley is back pitching and ready for his freshman year playing baseball at Grambling State University.
"I'm so grateful for all the care I received at Hoag Orthopedic Institute, with Dr. Desai, the nurses, anesthesiologists, everyone," he said. "They made the experience so easy and quick, and now I'm already back pitching like nothing happened."
The future computer science major and baseball player received a dual scholarship to his university, which he is looking forward to starting in August. "My ultimate goal is to play Major League Baseball, and then mentor and coach young athletes," Riley shared. "My advice to incoming high school athletes is to believe in yourself, have fun, work hard, cherish and don't take for granted the time you have doing what you love."